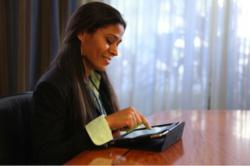 This new technology will allow us to be more integrated and connected with our clients.
Ft. Lauderdale, FL (PRWEB) February 26, 2013
In an ever evolving industry of technology and communication, the security industry remains an all encompassing tracking, verifying, documenting and monitoring industry. Miami private security company, Bryant Security Corporation, is pleased to announce the development of a new, state of the art security management system. Introducing, Bryant Scout.
Transparently designed, the Bryant Scout is a complete security management system. The software includes features which are inherent to the security guard industry such as, real time notifications, punch clock integration, and database management. "Once the application is downloaded, the smart phone becomes a multifunctional 'patrol device', which includes digital reporting, a cutting-edge checkpoint system and a set of field-operation applications," explains Shay Ben-David, President of Bryant Security Corporation. "During an emergency the guard presses one button and not only is the activity reported, but the video is recorded and saved in a secure online cloud."
"The launch of the Bryant Scout Technology came at the perfect time," says Rene Zerquera, Operations Manager at Bryant Security. "This technology is great on many different levels. Users can know in advance who their guards are, by clicking on the employee tab and viewing the guards name and a photo." The technology can also check-in guards during rounds, document incoming and outgoing deliveries, turn on/off lights, voice recognition, identity confirmation and parking lot surveillance. Rene continues by saying, "This new technology will allow us to be more integrated and connected with our clients."
Bryant Scout Capabilities:
Client secure access portal
NFC guard tour technology
Real time notifications
Intelligent electronics reporting
Escalation & post order manager
Punch clock integrated
Customer & employee Data Base
Punch clock integrated
No server to install
No setup cost
Custom built applications at little cost to you
To learn more about Bryant Scout, and other security and monitoring technology that is best for your home or business, call Bryant Security Corporation at 304-405-4001 or log onto BryantSecurity.com.
About Bryant Scout
The Bryant Scout is a cost-effective security management system that can be deployed quickly and easily. The cloud based system utilizes Near Field Communication ("NFC"), a technology which is a part of the Radio Frequency Identification ("RFID") family. The NFC technology is being touted as the next biggest technology change, which is now available on select smart mobile devices (cell phones & tablets).
About Bryant Security
BRYANT SECURITY is one of South Florida's most established and well diversified security companies. Providing South Florida guard services armed and unarmed in the Miami-Dade and Broward Counties, this family owned and operated business has proudly served and protected the community, property and people since 1985.
Offering innovation, quality, professionalism, resourcefulness, experience and flexibility, this makes Bryant Security the security services industry leader of South Florida. Mandating skilled manpower, teamwork, expertise, specialty knowledge and trained Miami security officers to demonstrate precise and flawless conduct at all times. From executive level protection to CCTV Camera and Entry Systems, they demand the very best! Each protection task private or public that their protection officers undertake calls upon their extensive training which focuses on ensuring the security and safety of your company, property and staff.
When you select BRYANT SECURITY you are ensuring that your facility will enjoy the highest possible degree of Miami professional security. Their management team consists of hands-on leaders who will work directly with you in planning and implementing your campus' security and contingency planning needs. BryantSecurity.com or 305-405-4001.