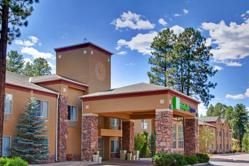 customers can now benefit from more user-friendly online content that is easier to navigate thanks to a new technology called responsive design
Pinetop, AZ (PRWEB) February 27, 2013
Holiday Inn Express in Pinetop is proud to introduce its brand new website, http://www.hiepinetop.com.
The new website means customers can now benefit from more user-friendly online content that is easier to navigate thanks to a new technology called responsive design. Responsive web design forces a website to adjust to the particular device that accesses it, creating a more optimized and easier experience for the user. The Pinetop website now allows customers the ability to easily access and make reservations as well as find details on area information, specials and directions on any device type without having to resize and change formatting.
Hiepinetop.com automatically gives website visitors the information they need based on the type of device they are using. Responsive design provides improved navigation and functionality by automatically adjusting the layouts and content to adapt to the screen size being viewed.
Holiday Inn Express has locations all over the world and helps meet the needs of both business travelers and those just looking to get away. Its new website offers the convenient and quality service customers of Holiday Inn Express are accustomed to.
For more information on this Holiday Inn Express, please visit http://www.hiepinetop.com.
Contact:
Asha Patel, Revenue & Marketing Manager
Holiday Inn Express Pinetop
431 E. White Mountain Blvd.
Pinetop, AZ 85935
ashap(at)swhm(dot)com
(480) 924 8000 Ext. 5
###
About Holiday Inn Express
The Holiday Inn Express Pinetop is located in the center of Pinetop right off of Highway 260 (White Mountain Boulevard). Visitors can enjoy numerous outdoor recreational activities including fishing, hiking, horseback riding, golfing and sightseeing amid the beautiful scenery. With an indoor heated pool, hot tub and sauna, the Holiday Inn Express hotel in Pinetop, AZ is a great place for a relaxing getaway.