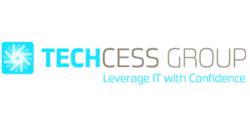 We are proud to be recognized by the Houston Business Journal for our continued growth and success in providing enterprise-level managed IT, cloud and unified communication services to small to medium sized businesses in the Houston Area
Houston, Texas (PRWEB) February 27, 2013
Techcess Group, Houston's leading managed It services and cloud computing provider for small to mid-size companies today announced that it has been named by the Houston Business Journal to 3 of its lists of top technology companies in the Houston Region. These Lists include:
Number 32 on Houston's Fast Tech 50
Number 12 on Largest Houston-Area Computer Network and System Integrators
Number 11 on Largest Houston-Area Information Technology Consultants
"We are proud to be recognized by the Houston Business Journal for our continued growth and success in providing enterprise-level managed IT, cloud and unified communication services to small to medium sized businesses in the Houston Area," said Hugh Sazegar, President and CEO, for Techcess Group.
About Techcess Group
Techcess Group was founded in Houston, Texas and provides local companies with exceptional IT support services. They offer everything a business needs for improving their IT infrastructure, from office phone systems and network support to cloud computing.