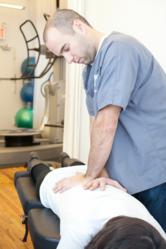 New York. NY (PRWEB) February 28, 2013
Dr. Steven Shoshany, a leader in non-surgical spinal decompression in NYC, is pleased to announce the acquisition of the most advanced and lauded cervical decompression equipment available in NYC. Cervical spinal decompression is administered by computer-assisted device that safely and effectively restores integrity to the spine and treats issues caused by herniated discs. In addition to Dr. Shoshany's range of advanced chiropractic, diagnostic and rehabilitation equipment, the upgrade to the current cervical spinal decompression system will assist patients who are looking to obtain long-term relief for arm, neck and even wrist pain by reconditioning the spine to its optimum posture and speeding up the natural healing process through decompression. The upgrades will ingrate lumbar and cervical treatment in to one machine and will upgrade hardware as well as software components to produce the most efficient and accurate administering and monitoring of treatments.
Dr. Shoshany works alongside medical doctors, physical therapists, massage therapists, and even acupuncturists at a state-of-the-art medical facility in downtown Manhattan. At this integrated practice, patients can explore the many available options for patients who suffer from neck and arm pain. When vertebrae in the cervical spine are negatively affected by poor posture or trauma to the neck area, discs can slip, rupture, and become herniated, causing painful friction and nerve impingement by the extruded disc material. If left untreated, the damaged tissues continue to deteriorate, resulting in increased pain and decreased functionality.
The impact of impinged nerves in the cervical spine can extend down the upper extremities, causing numbness, tingling, pain, loss of muscle control, and loss of function. By realigning the cervical spine and restoring space between each compressed vertebrae, Dr. Shoshany uses non-surgical spinal decompression to painlessly decrease pressure and allow the body's natural process to take over. Increased blood flow and as a result drainage and increased oxygen delivery to the damaged tissues can help reduce pain and has even been shown to reverse damage to the disc. Cervical decompression and chiropractic care can also help to return each vertebrae, over the course of treatments, to its proper position, while repairing the disc tissue and returning its shock absorption properties over time. 
Arm and neck pain can be fairly simple to treat with non-surgical spinal decompression and the damage is reversible in the majority of cases. Additionally, post-surgical patients have also been shown to experience an improvement in healing and comfort with non-surgical spinal decompression. By treating patients with cervical decompression, chiropractic adjustments, and physical therapy for rebuilding proper movement patterns, Dr. Shoshany releases pressure from the distressed nerve roots along the spine over the course of treatment. During each session, patients lie on the machine's bed and their body is comfortably secured in place. The machine produces a relaxing sensation as it strategically stretches the spine in order to achieve proper vertebral alignment and disc restoration. Each session lasts about 20 minutes and only requires the patient to rest while the machine is at work. The new system stores the patient's information and progress with each session. The frequency of sessions will vary depending on each patient's condition and individual response to treatment.
Patients in the NYC area who suffer from herniated discs, back, neck or arm numbness, weakness or pain are welcome to contact Dr. Shoshany for an evaluation to explore the benefits of non-surgical spinal decompression. For details and information on non-surgical spinal decompression as well as Dr. Shoshany's available array of pain relief and physical rehabilitation treatments, please visit his website: drshoshany.com