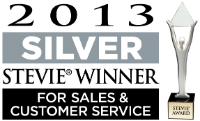 Our Auto Quote solution achieved outstanding results for this customer deployment, particularly in the areas of data enrichment, partner enablement and revenue gains, and continues to provide a return on investment beyond compare in our industry
LAS VEGAS, NEVADA (PRWEB) February 27, 2013
MaintenanceNet, Inc., the leading provider of service annuity solutions, today announced it was presented with a Silver Stevie Award in the "Sales or Customer Service Solutions Technology Partner of the Year" category in the seventh annual Stevie Awards for Sales & Customer Service.
The Stevie Awards for Sales & Customer Service are the world's top sales awards, contact center awards and customer service awards. The awards were presented to honorees during a gala banquet on Monday, February 25 at the Paris Hotel in Las Vegas. More than 300 nominated customer service and sales executives from the U.S.A. and several other countries attended.
Judges selected MaintenanceNet on the basis of its Service360 Auto Quote service revenue automation solution, which doubled service renewal rates for a leading networking manufacturer in 2012. Auto Quote automates the time-consuming administrative tasks of creating and delivering service renewal quotes to customers and ensures that sales organizations can quickly close "low-dollar" service sales, thereby capturing up to 100 percent of the service revenue opportunity available to them.
"Earning a Stevie Award two years in a row is a big honor for MaintenanceNet. Our Auto Quote solution achieved outstanding results for this particular customer deployment, particularly in the areas of data enrichment, partner enablement and revenue gains, and continues to provide a return on investment beyond compare in our industry," said Kelly Crothers, vice president of marketing for MaintenanceNet.
Providing Significant Business Value to Manufacturers and Channel Partners
In winning the award, MaintenanceNet was recognized for the significant business value that its Auto Quote solution provides to manufacturers and their channel partners. Offering market-leading capabilities to uncover and generate qualified leads through data management services, Auto Quote automates the delivery of sales opportunities in the form of pre-built quote notifications. By granting its customers unlimited visibility into their service renewal opportunities, MaintenanceNet nurtures the renewal cycle so that manufacturers can quickly and easily provide channel partners with highly qualified leads that they can immediately act upon.
"From our perspective this was the most successful Stevie Awards for Sales & Customer Service yet," said Michael Gallagher, president and founder of the Stevie Awards. "Not just because of the increase in the number and variety of entries, but in the extraordinary quality of the entries. Judges have told me how impressed they were with the success stories they reviewed this year. All of this year's Stevie Award winners are truly deserving."
The Business TalkRadio Network will broadcast a recording of the presentations this Wednesday, February 27, at 8:00 pm ET. Details about the Stevie Awards for Sales & Customer Service and the list of Stevie winners in all categories are available at http://www.StevieAwards.com/sales.
About MaintenanceNet
MaintenanceNet empowers the world's leading manufacturers and their channel partners to expand the scope and success of their service sales initiatives. The company has delivered billions of dollars in service revenues, while also improving overall customer satisfaction and retention for the businesses it serves. The key to MaintenanceNet's success is its proficiency in turning incomplete or inaccurate customer data into actionable business intelligence that drives revenue and profits for manufacturers. MaintenanceNet's Service360 cloud-based platform and Auto Quote solution expedites and automates sales processes, and provides a channel-friendly approach to service quoting, ordering and renewing. For more information, visit http://www.maintenancenet.com or call 866-699-7212.
About The Stevie Awards
Stevie Awards are conferred in four programs: The American Business Awards, The International Business Awards, the Stevie Awards for Women in Business, and the Stevie Awards for Sales & Customer Service. Honoring organizations of all types and sizes and the people behind them, the Stevies recognize outstanding performances in the workplace worldwide. Learn more about The Stevie Awards at http://www.StevieAwards.com.
###
MaintenanceNet is a registered trademark of MaintenanceNet Incorporated.