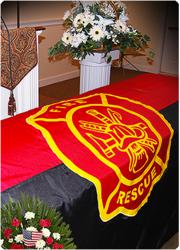 We are proud to offer the nation's brave public servants this complete selection of flags and drapes.
Atlanta, GA (PRWEB) February 27, 2013
Police and fire departments alike have been pleased to find, and even customize, the perfect flag, accessories, and most notably, high quality memorial coffin drapes for all their department and ceremonial purposes.
Measuring 5' x 9.5', the firefighter and police memorial coffin drapes are made from soft 100% polyester poplin allowing for easy draping, and they don't slide. Customized, the colors and service logo are fully sewn for correct viewing on one side.
The Flag Company, Inc. also carries a U.S. flag memorial drape. Constructed of long lasting 2-ply 100% polyester bunting, it features embroidered stars and sewn stripes with an open-weave construction resistant to dirt and moisture, making it the most durable of all drape fabrics.
Complementary to the memorial drape selection are the many choices of memorial cases and unique memorial flag display accessories. There are also a host of indoor flag sets along with custom firefighter and police flags made of nylon, featuring standard colors and generic logos of police departments and firefighter/rescue units. These flags are available in either 3' x 5' or 4' x 6' sizes.
"We are proud to offer the nation's brave public servants this complete selection of flags and drapes to suit all possible needs and occasions that arise in the line of duty," says Mike Lawrence Vice President of The Flag Company, Inc.
About The Flag Company, Inc.
As the largest online flagpole supplier, The Flag Company, Inc. offers a complete range of flags and flag-related products in addition to its line of flagpoles and signature Flagpole Beacon. Custom screen-printing and digital printing are available for special events, corporate logos, etc. Stock merchandise includes U.S., state, international, and military flags, and all types of accessories such as bunting, memorial cases, pennants, and more. The Flag Company, Inc. is the nation's largest producer of message flags, offering over 300 different messages used by realtors, restaurants, car dealerships, and any other kind of company imaginable. Toothpick flags—both stock and custom-made to order— are also available. The complete product line can be viewed at http://www.flagco.com. "Feel Good Light-Ups," a decorative light lens for fluorescent light fixtures, are now so popular there is a dedicated website at http://www.feelgoodlightups.com. Flagpoles and Flagpole Beacons are featured at http://www.flagpolewarehouse.com. Toothpickflag.com has a wide selection of toothpick flags for any occasion, party or corporate event, with a custom department for that one-of-a-kind special design.