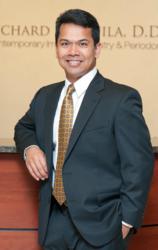 Jacksonville, FL (PRWEB) February 26, 2013
Richard E. Aguila, D.D.S., now performs bone grafting procedures for patients lacking the jaw bone to support the installation of dental implants. As a Jacksonville periodontist, Dr. Aguila carefully examines the available bone in a patient's mouth prior to making a recommendation for either bone grafting or implant surgery.
As soon as a tooth is lost or removed from the mouth for any reason, the bone begins the process of deterioration. As a tooth replacement, dental implants require a certain amount of bone for support, and if there is no longer enough bone mass, bone grafting may be required. In general, Dr. Aguila will use one of three main types of bone grafts.
The Autogenous graft requires a second surgical site, because the bone matter used comes from the patient who needs the graft. The graft is taken from a non-essential area such as the chin, and because it is from the patient, there is little risk of rejection or infection. The second type of a graft is an Allograft, which is human bone from a bone bank, while the third type is from animal bone and is called a Xenograft. There are advantages to each of the types of grafts, and the needs of the patient will determine the type selected.
During the procedure, an incision is made at the site of augmentation and the Jacksonville periodontist attaches the graft to the existing bone using titanium screws. After the graft has been attached, the incision is closed by using sutures. The patient must wait until the area has completely healed, which usually takes from six up to nine months, before dental implants may be installed. For more information about Jacksonville Periodontist, Dr. Aguila and his implants and bone grafting procedures, visit his website at http://www.laseranddentalimplants.com.
Richard E. Aguila, D.D.S is a periodontist offering patients personalized dental care for Jacksonville, FL since 2010. Dr. Aguila received his Bachelors of Arts degree in Chemistry and Doctor of Dental Surgery from West Virginia University. He completed a hospital-based General Practice Residency at the Naval Medical Center- San Diego. He practiced general dentistry in the Navy for six years before pursuing his specialty training in periodontics and dental implant surgery at the Medical University of South Carolina. During this time he obtained his Certificate in Periodontics and Masters in Health Sciences with honors. Dr. Aguila has been practicing periodontics and dental implant surgery exclusively since 2001. He is part of one percent of dental professionals providing the most recent FDA cleared laser procedure for gum disease and periodontal treatment. To learn more about Richard E. Aguila, D.D.S and his dental services visit his website at http://www.laseranddentalimplants.com and call (904) 638-7980.