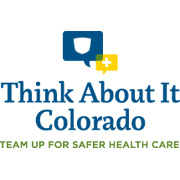 A strong, genuine partnership between health care consumers and providers can be a significant step toward better health care safety.
Denver, CO (PRWEB) February 28, 2013
Colorado nonprofit Think About It Colorado today announced the release of new tools on ThinkAboutItColorado.org for consumers and providers to promote safer health care.
About 500,000 more Coloradans are expected to access ongoing and regular health care, many for the first time, under the Affordable Care Act. With many important changes coming online with health care in the next year, conversations have focused largely on funding and access, leaving little room for the topic of health care safety.
"Now more than ever, safety should be the foundation of quality care," said Donna Kusuda, chairman of Think About It Colorado (TAIC). "A strong, genuine partnership between health care consumers and providers can be a significant step toward better health care safety."
Think About It Colorado is a statewide coalition of dedicated and knowledgeable leaders from the patient advocacy, health care and business communities. The organization is dedicated to promoting statewide awareness of the needs and opportunities for safer health care.
TAIC is the first statewide resource that helps both patients and doctors work together to achieve safer health care. ThinkAboutItColorado.org provides information for both providers and consumers, including tips and tools for a variety of health care settings; links to the latest state statistics and ratings on hospitals; and best practices for primary care providers.
"Sharing information, education and resources engages patients, providers, payers and other stakeholders in improving patient safety," said Rob Jenkins, patient safety project director at the Colorado Hospital Association. "Everyone in Colorado has important roles to play in achieving safe health care."
TAIC also serves as the bridge across diverse health care organizations by bringing all partners together to drive improvement in safety and highlight the good work already being done in Colorado. Providers in all health care settings, particularly hospitals, have implemented initiatives that have reduced patient error and resulted in greater accountability.
And while the state continues to demonstrate improvement in this critical area, more than 40,000 incidents of medical harm occur in the United States every day, making medical errors the fifth leading cause of death nationwide, according to the Institute for Healthcare Improvement.
"We all want Colorado to be the safest state in the nation when it comes to health care, and that starts with educating the public and health professionals to work together," said Patty Skolnik, executive director of Denver-based Citizens for Patient Safety. "Consumers can be a stronger partner on their health care team by having resources and tools that are easy to access."
With tip sheets and links to other tools, ThinkAboutItColorado.org gives consumers what they need to "know before they go." This knowledge can reduce the stress of visiting a doctor, checking into the hospital, or going for an outpatient treatment. Consumers can prepare to ask and answer important questions that reduce the chance for mistakes. Topics include how to prepare personal medical histories, keep drug and allergy records, fill prescriptions and take medications properly, and practice better hygiene to prevent infections. The site also links to Colorado hospital and provider rating data for health care safety.
For health care professionals, ThinkAboutItColorado.org provides tips for managing the anxiety, confusion and questions that patients have. Helping providers improve communication with patients advances safer care.
ThinkAboutItColorado.org is unique in presenting content that addresses all types of health safety environments, not just the hospital setting. These resources help primary physicians and patients better coordinate post-hospital treatment and reduce the risks of complications or a return to the hospital due to an issue that could have been prevented.
As part of National Patient Safety Awareness Week (March 3-9), health care organizations in Colorado and worldwide are raising awareness in their communities. This year's theme, "7 days of recognition; 365 days committed to safe care," reminds both health care providers and consumers that safer care must be a priority every day.
About Think About It Colorado
Think About It Colorado is a nonprofit public awareness program designed to spark a statewide conversation about health care safety and to drive reform in this critical area. Formed in 2010, the organization is led by a board of advisors representing the support of a broad coalition of dedicated and knowledgeable leaders from the patient advocacy, health care and business communities. Think About It Colorado encourages and enables Coloradans to "Team up for safer health care," and provides education, information and resources to help consumers and providers accomplish this goal.