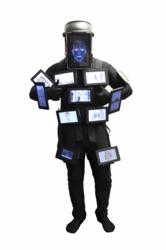 Westlake Village, CA (PRWEB) February 26, 2013
Accessory Power, a consumer electronics company in Westlake Village, will host a Ribbon Cutting Ceremony on Friday, March 8th 2013 to commemorate the opening of its 6th and 7th local warehouse at 11:30AM. Mayor Philippa Klessig of Westlake Village will be in attendance.
"This is an exciting time for us," says Alexander Lokshin, Wholesale Executive Account Manager. "We have been working hard to raise our profile and it is humbling to know that we can open two new local warehouses during these tough economic times."
As one of FedEx's largest consumer in the Conejo Valley, Accessory Power has been growing exceptionally over the last three years. It currently has 55 employees and continues to add one to two more each month. The company, which began out of the basement of CEO Robert Breines' home, is now an international organization with offices in Hong Kong, China, US and most recently a warehouse in Europe.
Accessory Power focuses on connecting with the community. Through partnerships with nonprofit organizations like The Fender Music Foundation and Pandas International, the company donates a portion of net sales from specific products to these 501(c)(3) organizations. Accessory Power supports the environment by manufacturing solar external battery chargers that are powered by the energy of the sun. In addition, the company hosts outreach programs with local universities by offering internships and giving lectures during marketing classes.
"We are looking forward to sharing this event with the community, as without them, there would be no us. We invite everyone to come down," says Lokshin.
The Red Ribbon Cutting Ceremony will take place from 11:30AM to 1:00PM at 31352 Via Colinas Suite 100, Westlake Village, CA 91362. There will be a catered lunch, warehouse tour, a raffle and TabletMan, the Ambassador of Accessory Power who led the team during International CES 2013, will make an appearance. For more information, contact Charysse Harper at charysse.h(at)accessorypower(dot)com
For further information on Accessory Power, visit http://www.accessorypower.com.
###
Accessory Power is an American-based manufacturing and distribution company, with offices in USA, Asia and Europe. Since 1980, Accessory Power has been dedicated to manufacturing quality consumer electronic accessories. An important distinction that characterizes this company is an unrelenting commitment to quality in each step of a product's life; every product is backed by an industry-leading three-year warranty. Accessory Power is proud to say that they are, "The Power Behind Your Electronics!"