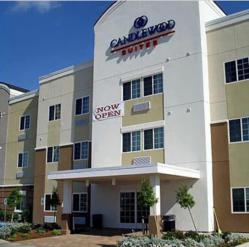 The new website serves each visitor what they expect depending on what device they are using and offers optimization to improve navigation and functionality
Shreveport, LA (PRWEB) February 27, 2013
Candlewood Suites is proud to announce the recent launch of its new website, http://www.cwsshreveport.com.
Created with the user experience and functionality in mind, the website is designed to be compatible with any mobile device or web program. By using a new technology known as responsive design, the website automatically adjusts its layout to fit seamlessly across any size screen or window. Customers can now easily access the reservation feature, details on specials, area information, directions and contacts on any device type without having to resize or hassle with formatting issues.
The new website serves each visitor what they expect depending on what device they are using and offers optimization to improve navigation and functionality. Image sliders go from four images to one without losing flash components, content adjusts to the user's screen, and navigation collapses intuitively.
Candlewood Suites has almost 300 locations around the world which provide extended-stay accommodations with the comforts of home. The new Shreveport website was created to achieve the goal of a stronger online presence while providing visitors greater usability and easier access to information and reservations.
For more information on this Candlewood Suites, please visit http://www.cwsshreveport.com.
Contact:
Asha Patel, Revenue & Marketing Manager
Candlewood Suites Shreveport
5020 Hollywood Ave.
Shreveport, LA 71109
ashap(at)swhm(dot)com
(480) 924 8000 Ext. 5
About Candlewood Suites Shreveport
Candlewood Suites is located in the center of Shreveport, less than a mile away from Shreveport Regional Airport. Just a short trip from the Louisiana Boardwalk, Downtown Shreveport and Independence Stadium, there is always something fun to do nearby. With a full kitchenette in every suite, high-speed wireless internet, and complimentary coffee 24 hours a day, Candlewood Suites hotel in Shreveport gives you a home away from home.