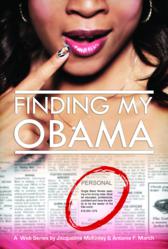 The season finale of the hit web series "Finding My Obama" has already garnered over 19,000 views.
LOS ANGELES, CA (PRWEB) February 27, 2013
Web series Finding My Obama, brain child of Bernie Mac Show writers Antonia March and Jacqueline McKinley, has wrapped its first season. Timely, interesting, and relevant, the seven episode season followed Nef (Nefetari Spencer), a single African American woman eager to find her perfect man.
The season took viewers on a winding journey. Through her dialogue with flavorful friends and a series of rather unsuccessful dates—with everyone from the unemployed to the homeless--Nef proved to be a familiar, yet unique, character. The finale, which already has over 19,000 views, is a perfect conclusion—one that is leaving viewers both satisfied and anticipating more.
Finding My Obama was created by Antonia March and Jacqueline McKinley—a duo whose resume consists of writing, producing, and director credits. During the course of their career, they have written for six different sitcoms, including the Emmy award winning series, The Bernie Mac Show. Their award winning short films, "Move" and "Oxtails," have appeared on both Showtime and BET.
View season finale here: http://www.youtube.com/watch?v=6wvmwgOBFfg
Episodes of Finding My Obama can be found on YouTube (YouTube.com/myFMOtv). Visit the series' Facebook page (Facebook.com/FindingMyObama).
For more information please contact:
Yvette Gayle
YvetteGayle(at)me(dot)com
Alexzenia Davis
Alexzdavis(at)yahoo(dot)com