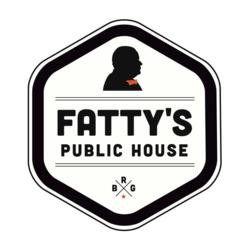 Los Angeles, CA (PRWEB) February 27, 2013
Fatty's Public House, La Cienega's new Old Hollywood themed hotspot, is helping guests get happier for seven hours a day, seven days a week, with the introduction of their new 7x7 Happy Hour.
Fatty's Public House, the latest restaurant concept by BRG, opened in November 2012 on La Cienega Boulevard in the old home of legendary actor Fatty Arbuckle. To suit the space and the concept, BRG's Executive Chef, Laurent Saussy, created a homey menu consisting of American comfort food classics with a twist, internationally inspired entrees, and gourmet pizzas to satisfy every diner.
Now, some of their best-sellers and a number of their infamous pizzas are available on the new happy hour menu, anytime from 12-7 p.m. daily. On the menu one will find starters such as the crab cake with sauce imperial and citrus, mussels with lager and chorizo, and hummus with pickled veggies and brick pita, sandwiches such as the standout fried chicken (for only $9!), and pizzas like the Brussels sprouts with lardons and parmesan, braised shortrib with blue cheese and arugula, and butter chicken with murgh makhani and mozzarella.
For drink specials, all craft cocktails are only $8, all draft beers are $2 off, house red/white wines are only $5 a glass, and well drinks are only $4. And with Fatty's retractable roof, there's sure to be no better place to people watch and enjoy a drink in the summer sun in the coming months.
Location:
Fatty's Public House
829 N. La Cienega Boulevard
West Hollywood, CA 90069
For reservations: (310) 854-0756
http://www.fattysla.com
About BRG:
Partners Justin Safier and Travis Lester formed Broseph's Restaurant Group (BRG) in July of 2010 out of a passion and love for the restaurant industry, as well as the belief in a need for more restaurants with outstanding culinary experience paired with exceptional atmosphere. By opening four restaurants in just two years (Bar Esquina in Cabo, Brick+Mortar in Santa Monica and San Diego, and now Fatty's Public House), BRG has established itself as THE restaurant group to watch, with multiple additions to their portfolio already in the works. http://www.brg-la.com
Media Contact:
Kelley Coughlan, Melrose PR, Kelley(at)melrosepr(dot)com, (310) 450-7960,http://www.melrosepr.com