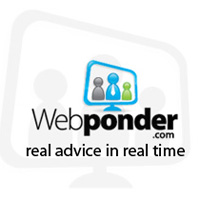 Many professionals on Webponder.com offer free initial consultations, just like they might do in person.
Miami, Florida (PRWEB) February 28, 2013
It is now possible to reach out to a medical professional online, and ask a nurse, ask a doctor, or ask a mental health counselor your nagging health questions on Webponder.com. Webponder.com is a business social media website that helps connect people in need of advice, with an expert or professional that can help them, through a live one on one video chat.
Using Webponder to ask a nurse a health question is just one of the many different areas that visitors to Webponder can get advice in. Webponder has an expert directory that includes professionals around the U.S. that specialize in law, technology, marketing, and many other fields of interest.
Although the medical and mental health category was just recently launched, visitors can find a number of different professionals who specialize in a variety of areas that may be able to provide answers and advice when situations arise where professional advice is needed.
While the video consultation on Webponder is not meant to serve as a substitute to visiting the doctor's office, there can be real value in getting general information about a condition or area of interest. A video consultation is a great way for an expert or professional to be connected with a potential client, customer or patient. If the video consultation is a success, the parties might then elect to carry on the relationship in a traditional fashion.
Many professionals on Webponder offer free initial consultations, just like they might do in person. Webponder can provide a happy and effective medium between relying on answers found on internet message boards, and taking time off from work and spending hundreds of dollars to go to the doctor's office. The rate that an advice seeker pays for advice varies depending on the rate that the professional charges for the video consultation, each professional chooses their own rate.
Webponder.com is based out of Miami, Florida, and just recently completed their BETA testing stage in January of 2013. Any inquiries can be directed to Managing Director and Co-founder Steve Thompson at s.thompson(at)webponder(dot)com or (305) 373-7775).