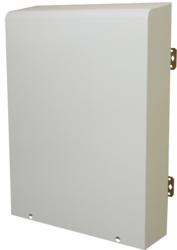 Richardson, TX (PRWEB) February 28, 2013
ASYMBLIX, the leading provider of OSP cabinet retrofit solutions, announced today the release of its new Armadillo Multi-Dwelling Unit (MDU) enclosure for Optical Network Terminals (ONTs).
The MDU supports up to four ONTs using a modular expansion approach, making use of independent ONT mounting kits for each of the four positions. The first mounting kit available for the MDU supports the popular iPhotonix series ONTs, which with the appropriate model ONT can support up to 16 POTS and Ethernet ports per MDU. In addition, mounting kits for almost any vendor's ONTs can be developed to support a mixed ONT environment, making the Asymblix MDU one of the industry's most universal enclosures.
The MDU outer cover design builds off the Asymblix Armadillo RE-100 cabinet experience, where internal temperatures are significantly reduced by the inclusion of an integrated wrap-around solar shield. Asymblix performed extensive thermal analysis on its MDU, comparing it with a number of other solutions. "The only MDU not to push all the major ONT components above their specified operating temperatures was Asymblix' new MDU," says Paul Forzisi, General Manager for Asymblix' OSP Solutions Group. "When deploying MDUs outdoors, the combined thermals of multiple ONTs and solar loading need to be considered."
The MDU consolidates power distribution cabling, includes provisions for fiber management and a 1 x 4 optical splitter, and supports an optional Optitap fiber cable entry. Ample cable entry ports support all other cabling including RF coax for video services. The associated ONT mounting kits include provision for ONT physical mounting, grounding, and all necessary POTS and Ethernet connectivity.
The Armadillo MDU can be wall mounted or pole mounted for maximum deployment flexibility.
For more details on the Asymblix MDU, visit http://www.asymblix.com/retrofit.
About Asymblix
Based in Richardson, Texas, Asymblix has two primary business units: Assembly Services and OSP Solutions. Asymblix Assembly Services provides pre-manufacturing services for the electronics industry that help original equipment manufacturers (OEMs) bring products to market both faster and more cost effectively. Asymblix OSP Solutions provides custom engineering kits that enable telecom service providers to upgrade their local access service delivery infrastructure at minimum cost and time. Asymblix' retrofit kits enable a wide range of next generation telecom platforms to easily fit into the variety of remote cabinets that have been broadly deployed by Telcos over the last 30 years. For more information visit: http://www.asymblix.com