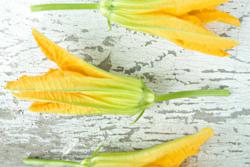 WIth the raised social awareness on the importance of veggies in your life it's easy to see vegetables becoming more than a trend in restaurants. --Chef Jonathon Sawyer
Huron, OH (PRWEB) February 27, 2013
2013 trend reports by the National Restaurant Association, Epicurious, and research and food brand consultants like the Sterling-Rice Group, Technomic and the Hartman Group, are echoing the trendiness of philosophies that have guided operations at The Chef's Garden farm for over 30 years. They're also the same trends that Chef's Garden co-owner Farmer Lee Jones is hearing from chefs during customer visits from New York to Los Angeles.
According to Farmer Jones, "one trend that is particularly exciting for our farm is the emphasis of more vegetables on the plate," reported by the Sterling-Rice Group and Technomic. This is due in part to rising costs of beef and chicken, but the Meatless Monday organization has also done an excellent job of encouraging people to eat at least one meal without meat per week. Chefs have embraced this by including more vegetarian options on their menus. Media outlets like Epicurious also claim that 2013 is the "year of the vegetable," pointing to the appearance of vegetables in everything from appetizers to desserts.
Chef Jonathon Sawyer, owner of several Cleveland restaurants, was emphasizing vegetables long before it was trendy. Veggie-centric dishes are now becoming an expectation of his clientele. "With the raised social awareness on the importance of veggies in your life, it's easy to see vegetables becoming more than a trend in restaurants. At The Greenhouse Tavern and Noodlecat, we enjoy a client base of 30 to 40 percent veggie, vegan, paleo, gluten-free and want to make all feel welcome and at home when they walk through our doors. The veggies we get now are undeniable some of the best ever. Dishes like Cauliflower Caponata in Stuffed Semolina Pasta, Carrots roasted with Beef Tendon & Apples poached in Beet Juice are modern examples of featuring veggies as the star of the dish," said Chef Sawyer.
Switching focus from meat to vegetables aligns strongly with another culinary trend reported by the Hartman Group among others about healthful dining. Whether the trend is driven by the consumer looking for healthier choices or chefs looking out for their diners' best interests, more vegetables on the plate mean more vitamins and antioxidants are being consumed. Farmer Jones has learned that chefs are challenging themselves to replace meats, fats and oils, focusing instead on the simplicity and distinct flavors of vegetables and herbs.
Locally grown produce and environmental sustainability have topped the National Restaurant Association's "What's Hot Chef Survey" for more than five years. The Chef's Garden has been focused on sustainable farming practices since they began supplying chefs in 1983. Sustainable farming practices not only place importance on not using chemical fertilizers and pesticides, they actually improve the quality of soil and the environment with methods like crop rotation and using cover crops to restore nutrition and a natural balance to the land. These practices also improve the quality of products grown here, ensuring that chefs receive flavorful and nutritious vegetables.
"Local" can be defined in so many ways and does not necessarily denote quality of the product. The farm and its customers consider direct delivery of products grown in the U.S. to be more local than distributors operating in their local area who source products from Mexico and South America. Farmer Jones also often hears in kitchens that local sources can only take a dish so far. The finest ingredients from artisan producers are sometimes only available from certain regions of the world. A willingness to use the best products available, wherever they are produced, allows chefs to create unique, exciting dishes and impart a global fusion of flavors.
"What these trend reports all point to is that it's a rewarding time to be involved in vegetable production. Chefs and consumers alike are placing higher value on the role of the vegetable in today's cuisine, and there's still tremendous opportunity for continued growth to make veggie-centric eating habits mainstream," explains Farmer Jones.
###
About The Chef's Garden
The Chef's Garden is a family farm that grows, packages, and ships the highest quality, safest and most flavorful specialty vegetables, herbs and greens directly to the best chefs in the world. The farm recently introduced the Farmer Jones Farm Home Delivery Program for the public. In order to grow foods with optimum quality, flavor and nutrition, The Chef's Garden is committed to sustainable agricultural practices that naturally replenish nutrients depleted from the soil, rather than synthetically. Read more about The Chef's Garden and owner Farmer Lee Jones at http://www.chefs-garden.com.