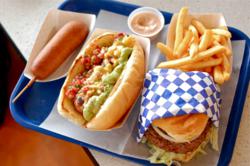 Maple Bacon just perfected the salty and sweet combo in frozen custard.
Orem, UT (PRWEB) February 27, 2013
This September marks ten years since Coneys Custard In Orem opened their doors. Ten years! That's a long time to be making creamy frozen custard, gourmet Coneys Dogs, and award-winning burgers. Even at ten years old their quality is still number one.
Coneys has some new flavors up its sleeves, and they'll be creating them all year. In February they released Drumstick; Creamy vanilla custard with chocolate sauce and waffle cone pieces. The new flavor was a huge success.
In March, the newest flavor addition will be Maple Bacon. Coney-grilled bacon mixed with sweet maple syrup in a smooth vanilla custard.
Coneys is taking a risk with this new flavor, as they're not sure how customers will respond. In a private tasting Mike Long and Hailey Spencer got to sample the flavor.
"I actually really liked it," said Hailey Spencer. "I'm really into things that are sweet and salty. Maple Bacon just perfected that combo in frozen custard."
Not only does Coneys have "Best Of State" custard, they have amazing burgers. Their burgers have been featured in SLC Magazine. The have the classic, simple one patty burger, or they make things big! The double-double cheeseburger has two patties on nice, buttery, toasted buns.
The Coneys Dog is well known around the community. They begin with an authentic Nathan's all-beef hot dog. Prepped and grilled to perfection and then placed on a freshly-baked artisan bun. Topped with chili, cheese, tomatoes, onions, tortilla strips and sour cream. Most people have never eaten a hot dog this delicious.
All in all it's been a good ten years, and Coneys is looking forward to ten more.