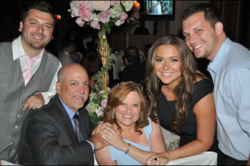 "Is there anything more fun than having the opportunity to shoot the breeze with family and friends? I don't think so! That's why I'm so excited to launch my podcast with Fake Mustache. Get ready - you never know what will happen! - Caroline Manzo
Hollywood, California (PRWEB) February 27, 2013
Let me tell you something! Bravo TV star and Real Housewife of New Jersey, CAROLINE MANZO, announced today that she's launching the "Let Me Tell You Podcast", a family round table show under Jay Mohr's Fake Mustache Network on Wednesday, February, 27th 2013. The weekly podcast is a count down to the release of her new book, Let Me Tell You Something (March 30) and a Q&A forum for the straight shooting New Jersey native to reach women around the globe who need no frills advice, beauty tips, and keeping your family as thick as thieves!
Are you Manzo enough to hear it? Caroline's ready to tell it like it is starting Wednesday, February 27th, 2013 on the iTunes store and FakeMustache.com.
"In a tabloid world, in an ocean of sleaze, Caroline Manzo has always been a bright, positive voice of reason and a beacon of hope that in reality TV all is not lost. There are diamonds in the rough and we at Fake Mustache Studios are very, very lucky to have found this one. Caroline Manzo I put my name on it." – Jay Mohr
More on Caroline Manzo:
Caroline Manzo is the epitome of a strong New Jersey woman. Always putting family first, she is a devoted wife and mother of three children, Albie, 25; Lauren, 23; and Christopher, 22. Caroline has been married for more than 27 years to her husband Albert who runs The Brownstone, a very successful catering facility in Paterson, NJ. Caroline is affiliated with several charities including SCTNOW, a foundation dedicated to stopping the horrific crime of child trafficking within our own borders, CROC, a foundation dedicated to helping cancer survivors, Best Friends Animal Society, Rescue Ink, and Wounded Warriors Project. Often described as a feisty spitfire, Caroline manages to have it all ?- family, friends and a career. In her opinion, that is what makes her a "Real Housewife" of New Jersey.
More on Jay Mohr's Fake Mustache Network:
Mohr left Kevin Smith's Smodcast in June 2012, taking his "Mohr Stories" podcast with him, to start Fake Mustache Network out of his garage in Pacific Palisades, CA. Smith reportedly let him out of his contract early in what Mohr called the "most amicable divorce in the history of Hollywood," according to the Hollywood Reporter.
In addition to "Mohr Stories," the Fake Mustache roster currently includes "The Crab Feast" with Ryan Sickler and Jay Larson, "Talking S**t" with Jim Jefferies and Eddie Ifft, and the upcoming "The Joe McDonell Experience" with radio personality Joe McDonell. The podcasts are available on iTunes, at fakemustache.com, and through a free Mohr Stories app.