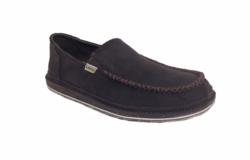 We are excited to expand LAMO's public presence through the men's collection and retail availability.
Ontario, CA (PRWEB) February 27, 2013
LAMO FOOTWEAR debuted the upcoming Fall '13 collection at FN Platform in Las Vegas to rave reviews from Nationwide retailers with their strongest collection yet. The collection includes stylish spins on the classic LAMO boot with fringe detailing and tribal printed fabric found on a new style, the Peru boot. Ever-popular basic slip-ons also get a fresh update featuring fun embellishments with a Southwestern flair.
Along with the newest additions to the women's line, Spring 2013 is the official launch of the LAMO Footwear men's collection. Casual, quality footwear for men will be available beginning April 1st, 2013. Pieces such as the Laguna ($45, http://www.lamofootwear.com), a comfortable basic canvas slip on, have quality-minded details including durable rubber soles and a full leather insole. Similar to the Laguna, the Malibu is another casual slip on made of oiled nubuck leather rather than canvas, and is available in 3 colors ($55, http://www.lamofootwear.com).
With spring wear in mind, the Suncrests are the must-have men's flip flops of the season. Made with top grade leather and contoured insoles that adjust to the curves of your feet, the Suncrests are made to last through the seasons.
The LAMO Footwear Spring '13 collection, including the newest men's line, will be available online and in select retailers across the nation starting April 1st, 2013, with a full launch in 2014.
ABOUT LAMO Footwear
Established by Joseph Li in 1995, the LAMO Footwear collection has since become a fashion staple for a continuously growing number of shoppers. "Our mission is to provide consistent value, quality and comfort through our entire line and to create ideal investment pieces. While other brands have resorted to lower quality synthetics and linings, we wanted to maintain the quality of our line by using natural sheepskin fiber, which is the hallmark of our brand." LAMO Footwear ranges from $60 - $200 and is available at department stores and specialty boutiques nationwide, or online at http://www.lamofootwear.com as well as internationally in Canada, South America and Japan.