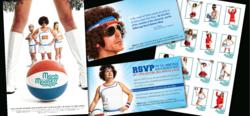 Dallas, Texas (PRWEB) February 27, 2013
OnMessage, a messaging infusion company, today announced it was recognized with a Silver ADDY Award by the American Advertising Federation for the creative campaign used to promote the company's March Madness Mixer.
The mission of the ADDY competition is to recognize and reward creative excellence in the art of advertising. Presented by the American Advertising Federation, The ADDY® Awards is the world's largest advertising competition with over 50,000 entries a year in local ADDY competitions.
The March Madness Campaign, recognized with a Silver ADDY, was used to promote a customer appreciation event hosted by OnMessage in 2012. The integrated campaign leveraged a variety of marketing vehicles including dimensional mailers, email campaigns, social media, posters and other promotional elements to drive registration and attendance for the mixer.
The creative was based on a 70's basketball theme and included throw-back uniforms, sneakers, and hairstyles from that era. Photography (captured by Clay Hayner Photography) included action shots of OnMessage employees in full basketball and cheerleader attire. The comical and engaging photos were leveraged throughout the campaign to engage the audience and increase interest in the event. The award-winning campaign can be viewed on the OnMessage Pinterest page: http://pinterest.com/onmessage/.
"This is such a great event for our company and the campaign was instrumental in its success," said James F. O'Gara, president and founder of OnMessage. "The creative approach and execution shows that B2B marketers can have fun with their campaigns while generating real customer and prospect interest at the same time."
Conducted annually by the American Advertising Federation (AAF), local ADDY Awards competitions are the first step in a three-tier, national competition. At the second tier, local winners compete against other winners in one of 15 district competitions. District winners are then forwarded to the third tier, the national ADDY Awards competition. By receiving a silver ADDY, the March Madness Mixer campaign from OnMessage is now eligible to advance to the district competition.
ABOUT ONMESSAGE
OnMessage is a messaging infusion company with a proven model for helping organizations develop a clear, compelling and consistent message. The company's methodology aligns an organization's strengths and true point of difference with customer needs to create a messaging platform that elicits optimal engagement across all communication channels. This methodology, when combined with OnMessage employee training programs and demand generation services, enables business leaders to achieve the highest return on every connection they make by infusing effective messaging into their company, culture and customers. OnMessage serves customers across the United States with offices in Dallas, TX and Philadelphia, PA. To learn more visit itsonmessage.com.