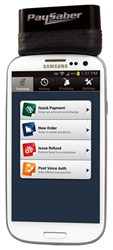 USAePay launches the highly anticipated Android App update version 1.1.4
Los Angeles, CA (PRWEB) February 28, 2013
USAePay, a leading payment gateway solution, launches the highly anticipated update to its Android mobile app, version 1.1.4 available now on Google Play Store. The Android app makes the easy to use USAePay app more merchant friendly with many new features and improvements.
The USAePay Android app provides a quick and easy interface for accepting credit card payments. Includes a mobile point of sale (cash register) interface that supports inventory syncing, cash payments, tax calculation, order history, supports bluetooth card swiper for better rates and printer for receipts.
New & improved features of USAePay's Android mobile app version 1.1.4 include:

Improved app reliability
New add/edit features in products tab
New add/edit for discounts on products
New batch history view
New show all transactions view
Learn more about USAePay's Android mobile app and download for free at USAePay's Google Play Store.
About USAePay
Since 1998 USAePay, a GorCorp Inc. company has been helping merchants process their credit card and check transactions with speed and security. Founded by the Goretsky brothers, the company is family-owned and based in Los Angeles, CA. Currently the USAePay gateway supports all of the major platforms (eg. First Data, TSYS, Global, Paymentech...) in the credit card industry and works with some of the leading check platforms. USAePay is also pleased to work with many of the larger merchant service banks in the US and abroad. For more information, please visit http://www.usaepay.com or call 866.USA.EPAY (872-3729).