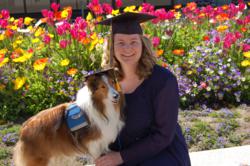 "We are thrilled that our hero dogs will be insured for the rest of their lives, allowing them the opportunity for long-term health and happiness, while easing the burden of financial care for their guardians." -- Dr. Robin Ganzert
Seattle, Wash. (PRWEB) February 27, 2013
Trupanion, a trusted pet brand and proven industry leader in pet insurance, today announced they have become the sole provider of pet insurance for the American Humane Association Hero Dog Awards category winners for 2011 and 2012. These winning dogs will receive coverage for 90 percent of the cost of treating injuries and illnesses they may develop throughout their lifetime.
"We are thrilled that our hero dogs will be insured for the rest of their lives, allowing them the opportunity for long-term health and happiness, while easing the burden of financial care for their guardians," said Dr. Robin Ganzert, President and CEO of American Humane Association. "Trupanion offers a comprehensive and simple policy that we feel is a perfect choice for our hero dogs and their guardians."
Pet insurance offers the financial support pet owners need when faced with high medical costs related to unexpected accidents and illnesses or long-term care, allowing pet owners the ability to approve "Plan A" veterinary care for their beloved pet instead of declining treatment or opting for a less-effective treatment option based on cost. Pet insurance can give pet owners the peace of mind that if the unexpected occurs, they are covered.
"These hero dogs represent all pets that offer us companionship, loyalty, and unconditional love every day, and we are honored to have them as part of the Trupanion family," said Darryl Rawlings, Trupanion's Founder and Chief Executive Officer.
Trupanion was the proud sponsor of the Service Dog category at the 2012 Hero Dog Awards and has an ongoing partnership with the American Humane Association's Second Chance® Fund, which helps animals that are the victims of abuse or neglect.
The winning dogs are as follows:
MILITARY DOG CATEGORY
2012 Winner: GABE (Columbia, SC) – Retired MWD Sgt. Gabe has served our country since 2006, completing over 210 combat missions with 26 explosive and weapons finds in Iraq. Since retiring in 2009, MWD Sgt. Gabe has earned over 40 awards and coins of excellence for his heroic work and spends his free time educating children on the value of respect and staying in school. Gabe was named the top American Hero Dog for 2012.
2011 Winner: MWD BINO C152 (Las Cruces, NM) – Dutch Shepherd Bino served the U.S. Army's 35th Military Police Detachment at Ft. Gordon, Ga., as a Narcotics Detection/Patrol K-9 for almost 11 years. He deployed in Iraq for 14 months, as well as serving special missions with the Border Patrol. Upon retirement, Bino learned a new skill set as a post-traumatic stress disorder Demo Service Dog.
GUIDE DOG CATEGORY
2012 Winner: TABITHA II (South Bend, IN) – Guide dog Tabitha is more than just a guide dog to her former guardian, Ann Drake, who lost her sight as an adult. Tabitha guided Ann back to a place where she found the confidence that she had lost and overcame the fears of her new life.
2011 Winner: ROSELLE (Novato, CA) – On September 11, 2001, Roselle and her guardian were working in the World Trade Center on the 78th floor of Tower One when the airplane crashed into the building. Roselle guided her guardian to the stairwell and traveled down 1,463 stairs. After leaving the building, they were across the street from Tower Two when it collapsed. Despite the dust and chaos, Roselle remained calm and totally focused on her job, guiding her owner to safety. Roselle was named the top American Hero Dog for 2011.
LAW ENFORCEMENT/ARSON DOG CATEGORY
2012 Winner: JYNX (Shillington, PA) – Law Enforcement-Arson K-9 Jynx desperately worked to try and pull his guardian Sgt. Kyle Pagerly and another officer out of harm's way as a crime suspect opened fire during a routine warrant delivery. Sgt. Pagerly was killed in the line of duty leaving behind his pregnant wife. If not for the swift and heroic efforts of K-9 Jynx, more officers would have lost their lives that night.
2011 Winner: SADIE (Westminster,CO) – A nationally certified accelerant detection K-9, Sadie works in the Major Crimes Unit of the Colorado Bureau of Investigation. She has worked approximately 400 fires, and has assisted in cases resulting in numerous arrests.
HEARING DOG CATEGORY
2012 Winner: TATIANA II (Plantation, FL) -- Tatiana II was matched with handler Cristina Saint-Blancard in 2011 as her hearing dog but quickly turned into her life-saving hero. Cristina suffers from asthma which is exacerbated by frequent ear infections and one night found herself completely without breath. Tatiana II was quick to notice something was wrong and ran into the next room to alert Cristina's family, saving Cristina's life.
2011 Winner: HARLEY (Fountain Hills, AZ) – Harley's human companion was 52 and had been hearing-impaired all his life when Harley arrived. He had lost his self-confidence after missing so much of what had been said around him and through sound work, Harley taught him to regain that confidence.
SEARCH AND RESCUE DOG CATEGORY
2012 Winner: SOOT (Charleston, WV) – West Virginia Search and Rescue K-9 Soot, didn't know he had a big job ahead of him when he was adopted by Lorraine Burdette. Soot's training in air scent, scent discrimination, and certified search and rescue wilderness training gave him the tools he needed to rescue a 78-year-old diabetic hunter lost in the wilderness on a cold December morning.
2011 Winner: SAGE (Hagerman, NM) – Sage passed the FEMA Canine Readiness Evaluation at 18 months and served her community and her nation from that day until she passed away in 2012. Sage's missions included recovery efforts following the 9/11 terrorist attacks, Hurricanes Katrina and Rita, searching for missing or captured U.S. soldiers in Iraq (for the U.S. Army), and numerous local missing-person searches.
SERVICE DOG CATEGORY
2012 Winner: HOLLY (Magna, UT) – Seizure alert Service Dog Holly never takes her attention away from her guardian, Shanna Wilkinson, who suffers from epileptic seizures. Together Holly and Shanna travel all over the country and teach elementary students the importance of Service Dogs.
2011 Winner: ZURICH (Des Plaines, IL) – Zurich, a Canine Companions for Independence certified service dog, was the loyal companion of Patricia Kennedy from 2004 to 2012, when Patti sadly passed away. During their time together, Zurich learned to retrieve everything, even the neighbor's TV remote control, to help Patti with her daily life.
THERAPY DOG CATEGORY
2012 Winner: STELLA (Mt. Kisco, NY) – Therapy Dog Stella and her guardian Marissa Levy, dedicate their time to bringing love and joy to the residents at Richmond Community Services, a not-for-profit organization that cares for developmentally disabled children and adults. Stella is unfazed by disabilities and diseases, befriending and with time, unconditionally loving, all she meets.
2011 Winner: STACEY MAE (Guffey, CO) – Stacey Mae, a four-year-old greater Swiss Mountain Dog delivered teddy bears and stuffed animals to children in hospitals and adults in nursing homes. She received and distributed over 2,000 teddy bears and stuffed animals and visited nursing homes 2-3 times a week before passing away unexpectedly in 2012.
EMERGING HERO CATEGORY
2012 Winner: DANIEL (Nutley, NJ) – Daniel, a beagle from an Alabama shelter on "death row," did the unimaginable in 2011 when he survived the most inhumane form of euthanasia, the gas chamber. Since adopted by his loving guardian, Joe Dawyer, Daniel the "Miracle Beagle" has used his second chance at life as an advocate for shelter adoptions and humane euthanasia legislation across the United States.
2011 Winner: RICOCHET (Escondido, CA) – Ricochet surfs with special needs children and people with disabilities for therapeutic purposes. As a surfing dog, she has inspired people all over the world, encouraging them to be who they truly are, focus on what they can do, and turn negatives into positives.
For those hero dogs that have passed away, a donation will be made by Trupanion in the dog's name to the charity of their choice.
The Hero Dog Awards were created by the American Humane Association to celebrate the devoted relationship between dogs and people. The annual national competition searches out and recognizes America's Hero Dogs – often ordinary dogs who do extraordinary things, whether it's saving lives on the battlefield, rescuing the lost or stranded, or simply offering much-needed companionship each and every day.
About Trupanion®
Trupanion is an industry leader in pet insurance, offering cat and dog insurance in the United States, Canada and Puerto Rico with the mission of delivering financial peace of mind to pet owners. Trupanion offers a simple, customizable pet insurance policy with 90% coverage for diagnostic tests, surgeries, medications, hospital stays, and alternative therapies for the treatment of accidents or illnesses. Trupanion's policy includes coverage of hereditary and congenital conditions with no payout limits per incident, per year, or over the lifetime of the pet.
Trupanion is underwritten by the American Pet Insurance Company, which has earned a Financial Stability Rating® of A, Exceptional, from Demotech, Inc. Trupanion is a founding member of the North American Pet Health Insurance Association (NAPHIA), demonstrating a commitment to high standards and transparency in all actions and products. For more information call 800-569-7913 or visit Trupanion.com. You can also follow Trupanion on Twitter or Facebook.
About American Humane Association
American Humane Association is the country's first national humane organization and the only one dedicated to protecting both children and animals. Since 1877, American Humane Association has been at the forefront of virtually every major advance in protecting our most vulnerable from cruelty, abuse and neglect. Today we're also leading the way in understanding the human-animal bond and its role in therapy, medicine and society. American Humane Association reaches millions of people every day through groundbreaking research, education, training and services that span a wide network of organizations, agencies and businesses. You can help make a difference, too. Visit American Humane Association at http://www.americanhumane.org today.