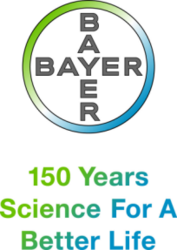 "The information growers see in the One World to Grow On exhibit reinforces the Bayer CropScience dedication to propelling farming's future, as well as our commitment to working with growers to help them cultivate ideas, answers and solutions."
Orlando, FL (PRWEB) February 28, 2013
Bayer CropScience will help growers explore One World to Grow On at Commodity Classic 2013, which kicks off today in Kissimmee, Fla. The exhibit (booth #531) demonstrates the crop protection company's integrated solutions for corn, soybeans and wheat.
Based on a comprehensive industry research project, Bayer CropScience identified four pivotal decision-making times that serve as the foundation for the One World to Grow On platform. These key events are Plan for Success, Establish a Healthy Crop, Maintain the Potential and Successful Harvest.
In the booth, each interactive unit will have Bayer CropScience experts on hand to discuss with growers the decisions that most affect yield, including how to:

Manage the growing weed resistance epidemic through Respect the Rotation™ and the LibertyLink® system
Plan for the growing season, preparing soil and seed beds and protecting crops, with the ultimate goal of maximizing yields for a successful harvest
Manage yield-robbing pests with key technology like Poncho®/VOTiVO®
Boost yields with technology like Stratego® YLD
Interact with the recently launched Innovation Plus™ platform
"One World to Grow On helps provide information that puts growers in a position to maximize their outcomes at harvest," said David Hollinrake, Vice President, Agricultural Commercial Operations Marketing, Bayer CropScience. "The information growers see in this exhibit reinforces the Bayer CropScience dedication to propelling farming's future, as well as our commitment to working with growers to help them cultivate ideas, answers and solutions."
Additionally, as part of Bayer's 150 Year Celebration, Bayer CropScience will be celebrating 150 years of "Science for a Better Life" at the booth with visitors during the three-day expo.
Commodity Classic attendees will also be the first to check out the launch of the Bayer Bee Care Tour in adjacent booth #141. The tour's goal is clear: To foster collaboration and understanding of bee health. The tour includes a specially-wrapped vehicle, organized presentations for growers and a bee expert to talk about the well-being of pollinators
Attendees can also stay up to date on news, charge their devices or use one of the laptops or iPads provided by Bayer CropScience in the Connection Café. Here attendees can sign up-to-receive updates from Bayer Connect, the company's social media thought leadership hub, for a chance to win a Parrot AR.Drone Helicopter. See official rules for complete details.
###
About Bayer CropScience
Bayer is a global enterprise with core competencies in the fields of health care, agriculture and high-tech materials. Bayer CropScience, the subgroup of Bayer AG responsible for the agricultural business, has annual sales of EUR 7.255 billion (2011) and is one of the world's leading innovative crop science companies in the areas of seeds, crop protection and non-agricultural pest control. The company offers an outstanding range of products including high value seeds, innovative crop protection solutions based on chemical and biological modes of action as well as an extensive service backup for modern, sustainable agriculture. In the area of non-agricultural applications, Bayer CropScience has a broad portfolio of products and services to control pests from home and garden to forestry applications. The company has a global workforce of 21,000 and is represented in more than 120 countries. This and further news is available at: press.bayercropscience.com.
Contact:
Bayer CropScience Media Hotline: 1-877-879-6162
USA-BCS-2013-0061
CO0213MULTI1A537V00R0
Find more information at bayercropscience.us.
Forward-Looking Statements
This release may contain forward-looking statements based on current assumptions and forecasts made by Bayer Group or subgroup management. Various known and unknown risks, uncertainties and other factors could lead to material differences between the actual future results, financial situation, development or performance of the company and the estimates given here. These factors include those discussed in Bayer's public reports which are available on the Bayer website at http://www.bayer.com. The company assumes no liability whatsoever to update these forward-looking statements or to conform them to future events or developments.