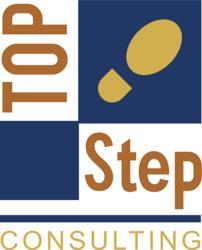 ...I am thrilled to have found a role that can have an impact across many organizations in their pursuit of business operations excellence.
South Riding, VA (PRWEB) February 28, 2013
TOP Step Consulting announced today that Gwyn Reich has joined the company to further develop their growing portfolio of national and global customers. Gwyn Reich comes with a wealth of experience within the Industry, having spent the last 20 years in progressive roles in technology enterprises spanning all areas of business from Professional Services, Sales and Marketing, Finance, Human Resources and Business Operations. Most recently, Gwyn was the Director of Worldwide Professional Services Operations for Avid Technology headquartered in Massachusetts and was responsible for the development, implementation and adoption of Avid's Professional Services Automation platform, OpenAir by NetSuite. Joining TOP Step Consulting, a young and rapidly growing company, will continue her success.
Gwyn joins TOP Step Consulting as Director Business Development to contribute to TOP Step Consulting's recent success providing professional services automation consulting and implementation services to many of the top companies both in the United States as well as globally. Gwyn comments, "The opportunity to join TOP Step Consulting and work with such a talented group of professionals is so exciting! I am thrilled to have found a role that can have an impact across many organizations in their pursuit of business operations excellence."
Jodi Cicci, President and CEO of TOP Step Consulting said "Gwyn's wealth of experience and industry knowledge has already made her a key addition to the TOP Step Consulting family. We view her appointment as a sign of our commitment to being the leading consulting company in our industry. The increasing demand from our customers led us to look for an addition to our team who brings real world experience in growing and managing a services based business and just as importantly one who will fit in with our commitment to quality and exceptional service. It is very fortunate that we were able to find someone of Gwyn's caliber to fulfill this role. I'm confident that Gwyn will play a key role in providing and implementing high quality solutions for our clients."
About TOP Step Consulting
TOP Step Consulting improves business efficiency and productivity for Professional Services business operations. TOP Step Consulting is a leading expert in professional services automation with extensive experience in PS business operations specializing in complex global operations. They provide advisory, implementation and outsourced administration services to world-class professional services organizations of all sizes. Their goal is to streamline operations, helping clients achieve their profitability goals so they can focus on growing their business. To learn more please visit http://www.topstepconsulting.com