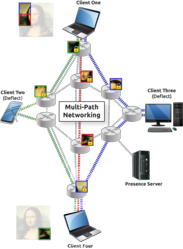 Virtual Dispersive Networking (VDN) with Spread Spectrum IP™ is a 100% Software Solution that Revolutionizes the Cybersecurity Industry
Atlanta, GA (PRWEB) February 27, 2013
Dispersive Solutions Inc. (DSI) announced that the drivers for their Virtual Dispersive Network (VDN) technology have been awarded Windows Hardware Quality Labs (WHQL) driver certification for all 32-bit and 64-bit Windows platforms. Windows clients and servers now recognize VDN network drivers as trusted devices and can use Microsoft's Windows Update service to maintain VDN drivers. DSI's VDN software is available for Windows XP, Windows Server 2003, Windows Vista, Windows Server 2008, Windows 7, Windows Server 2008 R2, Windows 8, and Windows Server 2012.
Microsoft's Windows Logo Program promotes driver signing through their rigorous WHQL testing program. To gain WHQL certification, devices and drivers must pass a battery of tests designed to ensure reliability, stability, and compatibility.
"DSI's VDN technology is designed to provide secure Spread Spectrum IP™ networking to Microsoft networks and Windows clients," says Dr. Kevin Eveker, Vice President and CTO, Dispersive Solutions, Inc. "WHQL certification is evidence that DSI is an enterprise-ready security solution optimized for Windows network environments and all Microsoft operating systems."
VDN is a 100% software-based solution that works on the existing network infrastructure and devices. Implementation is as easy as a software download to each device. VDN can be used with fixed and mobile devices, including servers, PC's, tablets and smartphones.
Over the last 18 months, DSI has garnered significant traction within the military and federal government, having completed several deployments to date. Interest continues to surge amongst the ranks of the military and government. Most recently, DSI rolled out its patented technology to the commercial sector.
Robert W. Twitchell Jr., CEO and founder of Dispersive Solutions, invented DSI's patented Virtual Dispersive Networking (VDN) Technology, which is analogous to a "spread spectrum frequency hopping" radio for IP based networks. VDN secures data in transit by obscuring all data traffic in the noise of a network by dispersing traffic across multiple independent network paths.