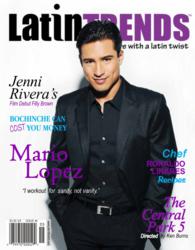 Healthy mind, body & wealth issue
New York, NY (PRWEB) February 27, 2013
Our cover person, Mario Lopez, is a true embodiment of healthy living. In this issue, LatinTRENDS speaks with Lopez about his charitable endeavors, altruistic vision and strong work ethic. We further celebrate these admirable qualities in trendsetters like Rudy Duthil, creator of the Afro-Latino American Dream campaign and Zenaida Mendez, President of the New York State Chapter for the National Organization for Women (NOW-NYS). In addition, LatinTRENDS features articles on creating a functional and effective home office and the cost of gossip at the workplace.
LatinTRENDS also hosts its 6TH annual iConomy Expo on March 28th at the CUNY graduate center, located on 34th Street and 5th Avenue in Midtown. We will host the "What's Trending Series" with expert news and insights in business, mobile & social media, music, film & TV, the Hispanic market and healthy lifestyle. iConomy is attended by business owners, professionals in diverse fields and college students. Attendance is free, registration required. For more information and to register, go to http://www.iconomyny.com.
For up-to-the-minute news and the latest trends in fashion, entertainment, politics and pop culture with a Latin twist visit http://www.latintrends.com.
For more information, please contact Maria Luna at (212) 852-6164 or via email at:
mluna(at)latintrends(dot)com