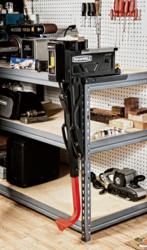 (PRWEB) February 27, 2013
Rockwell's new BenchJaws™ anchors home improvement projects. BenchJaws drafts many of the features of the popular JawHorse and applies them to a benchtop vise.
For cutting, sanding and staining operations, there's no substitute for a vise that secures projects in place; that is until now. BenchJaws delivers hands-free clamping right from the workbench. The jaws, like the JawHorse's, are foot-pedal activated leaving the operator's hands free to handle the workpiece. It mounts to a corner of a workbench with a steel, L-shaped plate. This two-position mount allows for 90° rotation. But BenchJaws is more than a conventional vise, because its jaws open up to 16 in. Add the optional extension jaw and it maxes out at 24 in.; that's wide enough to hold a rocking chair.
The 22 lb. workstation supports loads up to 220 lbs. and generates up to one metric ton (2,200 lbs.) of clamping force. The vise mounts to most workbenches that are at least 34 in. high. The Rockwell BenchJaws (RK9006, $129.99) is available at Amazon.com, Rockler.com, HomeDepot.com, and coming soon to Menards.
Like BenchJaws, the JawStand XP is part of the Rockwell® family of hands-free of work stands. It supports loads up to 220 lbs., clamps work pieces up to 1-3/4 in. thick and raises them up to 43 in. off the ground. The support head pivots 0 to 90°, swivels 360° and is situated on a heavy-duty tripod base.
It features a micro-adjustment head that's adjustable +/- 2 in., even under load. During cabinet installation, the work stand is an extra set of hands by supporting and raising the cabinet to the desired height before installation.
The stand can even be used when installing crown molding. Position a 2x4 in its jaws and angle it beneath the molding for support. JawStand XP also works great as an infeed/outfeed support when cutting sheet goods or long pieces of stock. It's ideal due to its frictionless, non-marring surface. These slides allow material to pass freely, and keeps the workpiece from drifting. There's even a built-in bubble level beneath the slides to ensure that the support surface is perfectly level, even if the ground below is not.
The JawStand XP has a quick-release cam lock on the clamp. Once the non-marring, rubber-coated clamp's width is set, the cam lock allows for quick release and resets to the exact width every time. This feature saves time, especially during repetitive jobs where the workpiece, such as a door, is the same thickness.
There's no assembly with the JawStand XP. It weighs 3.2 lbs. and stores easily.
Constructed of hardened steel, the XP has a sturdy tripod base with non-marring and non-slip rubber feet. The tripod base provides excellent stability on level and uneven surfaces. The height of the support surface is adjustable from 29 in. to 43 in.
The Rockwell® JawStand XP (RK9034, $79.99) is available at rockwelltools.com and other websites including Amazon.com.
Another handy workshop mainstay is the circular saw. Rockwell's VersaCut™ mini circular saw weighs only 4 lbs. That's about one third the weight of a full-size circular saw. This mini saw rips through plywood and other sheet goods in no time at all. VersaCut ensures one-hand operation due to its inner and outer blade guard design. The saw delivers quick and precise cuts, even plunge cuts in a variety of materials. By simply changing the saw's blade, it can cut flooring, plastics, ceramic tile, slate or aluminum.
The 3-3/8 in. diameter blade has a maximum depth of cut of 1-1/16-in. The single-speed, 4-amp saw has a no-load speed of 3500 rpm. It's also equipped with a Laserguide™ for cut alignment. The Rockwell VersaCut Saw (RK3440K, $129.99) is available at Lowes.
# # #
Editor's Note: Media Contact: MKM Communications at
847-255-1903 or mkmcomm(at)gmail(dot)com