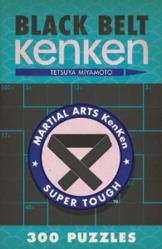 KenKen is the most popular new puzzle since sudoku. Peter Gordon, Puzzlewright Press
(PRWEB) February 27, 2013
Acclaimed Japanese mathematics instructor Tetsuya Miyamoto developed KenKen in 2004 with the goal of improving his students' math and logic skills. This understandable, fun, and challenging puzzle quickly became a favorite leisure activity for all ages throughout Japan and then for millions of players worldwide. In 2008, Nextoy LLC brought KenKen to the United States, and it soon was the first daily feature since the crossword puzzle to appear in the New York Times. Now it's carried in the Los Angeles Times, Chicago Sun-Times, The Times (UK), Scholastic classroom magazines, and more than 200 other international publications.
Sterling's editor, Peter Gordon says "Puzzlewright Press is proud to introduce Martial Arts KenKen® puzzle books, ranging from Easy to Super-Tough. KenKen is the most popular new puzzle since sudoku and its addictive qualities challenge readers daily in the NY Times, LA Times, Boston Globe and many other major publications. Over a million KenKen puzzles are played every week."
Black Belt KenKen (Super-Tough)
Brown Belt KenKen (Hard)
Green Belt KenKen (Not-So-Easy)
White Belt KenKen (Easy)
Video: Learn to play KenKen in just 2 minutes with Will Shortz
About KenKen
KenKen® logic puzzles were first invented in Japan by Tetsuya Miyamoto, promoted as "Kashikoku Naru Puzzle" or the "Makes You Smarter" puzzle, and brought to the rest of world through Nextoy, LLC. With the main goal to improve students' cognitive abilities in mind, he developed a brain stimulating exercise that would be understandable, fun and challenging for students of all levels. Today, Mr. Miyomoto's classroom vision seems to have become a reality.