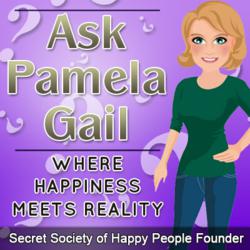 Sometimes it helps to get the perspective of someone who's able to find the silver lining in most situations.
Dallas, TX (PRWEB) February 27, 2013
Secret Society of Happy People Founder, Pamela Gail Johnson, has started a new online column, Ask Pamela Gail: Where Happiness Meets Reality.
This column is designed for readers to send questions about specific situations that make them unhappy. In keeping with the Society philosophy the feedback provided will have a glass half full perspective, yet remain realistic.
Sometimes people have a situation that they'd like to have an objective opinion about and that's what this new column provides. "Happy people want to find the silver lining if there is one in even an uncomfortable situation and that's what I try to do," says Pamela. "It's not that every situation has a happy outcome, but almost every circumstance offers an opportunity to learn and that can be happiness."
Pamela Gail Johnson founded the Secret Society of Happy People in 1998 to help people recognize more happy moments and is the author of the Secret Society of Happy Peoples Thirty-One Types of Happiness Guide available in print and on e-readers.
Initially, the column will be posted weekly. Questions can be submitted through our website.
###
Visit http://www.sohp.com to connect with the Secret Society of Happy People on Facebook, Twitter, Google+, LinkedIn and Pinterest.
Secret Society of Happy People Highlights
Founded: August 1998
Purpose: The Secret Society of Happy People encourages the expression of happiness and discourages parade-raining. Parade-rainers are those people who don't want to hear your happy news. And no, we don't tell people to be happy if they aren't or how to be happy.
Creed: As a member of the Secret Society of Happy People I will:
Recognize happiness with the same enthusiasm as I do unhappiness,
Encourage others to share their happiness,
Don't unnecessarily rain on other people's parades.
Members: Thousands from around the world in more than 34 countries
History: The Society gained international recognition in December 1998 when it challenged Ann Landers for discouraging people from writing happy holiday newsletters to enclose with their holiday cards.
Since then the Society has:

Announced the Happiest Events and Moments of 1998-2012
Identified the Thirty-one Types of Happiness
Declared August and August 8th as Happiness Happens Month & Day
Nineteen governors sent proclamations in 1998

Organized HappyThon, the first online social media event to promote happiness
Organized voting for the Happiest Events, Inventions and Social Changes of the Century
Host Hunt for Happiness Week the 3rd Week of January
Seven governors sent proclamations in 2006
The Society has been featured in People Magazine, Newsweek and Time, and has been included in stories in Reader's Digest, Prevention, Ladies Home Journal, Harpers, Yoga Journal, SELF, Redbook, Glamour, and New Age Journal. Founder Pamela Gail Johnson was on Politically Incorrect with Bill Maher.
Hundreds of print and broadcast outlets throughout the world have covered the Society, including CNN, The Associated Press, USA Today, Good Morning America (ABC), The Wall Street Journal, The Washington Post, The Dallas Morning News, The Fort Worth Star-Telegram, and Los Angeles Times. Parade named the Happiest Events, Inventions and Social Changes of the Century as the "Best List of the Century."
A few websites that have linked to the Society include: Beliefnet.com, Good Housekeeping, DailyInBox.com, and USA Today.com Hot Site.
The Society has been included in Think You're the Only One?, 365 Health and Happiness Boosters, Voices of Truth, Every Day's a Holiday Calendar, Chase's Calendar of Events, and Trivial Pursuit's 1990's Edition includes a question about Admit You're Happy Day.
Pamela Gail Johnson has been an InspireMeToday.com Luminary in 2009-2012.