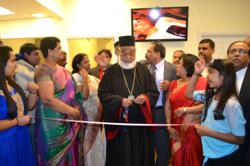 Goodness of Santhigram Kerala Ayurveda comes to Chicago
Chicago, IL (PRWEB) February 28, 2013
Santhigram Kerala Ayurvedic Company the ISO 9001: 2008 certified provider of Kerala Ayurveda Wellness Therapies in India, UK ,USA , celebrated grand opening of its six center in the USA on Feb 24 2013 .
The global CEO of the company, Dr Gopinathan Nair speaking on the occasion said, "We are encouraged by the overwhelming response Santhigram Kerala Ayurveda Wellness Centers have received in the US and the opportunity to help hundreds of people with chronic ailments."
This is the first center of the company in the Midwest region and the occasion was celebrated by many community leaders. The guest of honor Cor Episcopose Dr Kuriakose Thottupuram, inaugurated the center. He said, "Santhigram is doing a great service by bringing Kerala Ayurveda therapies to the Midwest region and it will help many people." Mrs Mariamma Pillai, president of FOKANA praised Santhigram on this venture. And said, "She has great faith in Kerala Ayurveda for it changed her life and helped to recover from an episode of paralysis when conventional medicine had given very less chances of her recovery." Other prominent leaders who blessed the occasion included, Mr Gladson Varghese, national general secretary of FOMAA, KM Eappan, chief editor of Kerala express, Sunny Vallikalam, president of Chicago Malayalee Association, Beena Vallikalam treasurer of NAINA and Philomina Philip, board member of INAI. Vote of thanks was given by business partners Saramma Gabriel and Dr Raj Guptan of Saraj Med Therapy LLC .
Ayurvedic and Panchakarma Therapies that Santhigram offers reduce the physical suffering from skeleto-muscular diseases, control several dreaded disabilities, ward off the middle age syndrome, possibly retard the aging process and provide unlimited curative powers for body and mind by repairing the worn out tissues revitalizing the body, increasing memory power, improving vigor and vitality and make oneself physically and mentally fit. Santhigram's specialized Ayurvedic & Panchakarma therapies also help to alleviate specific health problems like Back Pain, Neck Pain, Frozen Shoulder, Sinusitis, Migraine, Joint Pain, Arthritis, Insomnia, Depression etc, reduce obesity and mental tension, enhances body complexion and skin luster, correct one's metabolism and deficiencies and also recharges the body and mind.
For further details about Santhigram Ayurvedic Centers, franchise inquiries please contact:
Gopinathan Nair
President & CEO
Santhigram Kerala Ayurvedic Co. of US Inc.
3050 Woodbridge Ave., Edison, NJ 08837
Phone: +1-732-915-8813
Email: info(at)santhigramusa(dot)com
Santhigram Kerala Ayurveda - USA Website
Appointments Call : 7739426161, Toll Free: 1-888-KER-AYUR (1-888-537-2987)