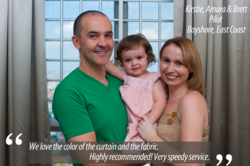 Testimonials from clients is a very powerful tool to gain the trust of prospective customers.
Singapore (PRWEB) February 27, 2013
As part of its new marketing initiative, 99 Interior is adding another series of videos to its YouTube to establish a strong online presence. The Singapore-based curtain company will be including real video testimonials from its customers that is believed to be a one-of-its-kind marketing move in the industry.
"Testimonials from clients is a very powerful tool to gain the trust of prospective customers," claims Vinson Han, the marketing director of the curtains and blinds specialist.
Han elaborates that the company's customers featured in the videos were more than pleased to provide their testimonials, as they were satisfied with the customer service provided by the company.
But the video testimonials are not merely used to show-off its contented clientele. Most of these videos were recorded in the homes of customers, therefore also allowing viewers to see the completed work.
"It may not be easy for customers to visualize the end product when presented with our fabric samples," explains Han, "so when they are able to see the final work in the video, it is like watching a live demonstration of what their homes will potentially look like after our service."
The company's bold marketing move does not come unfounded. Recognizing that homeowners rarely have the time to visit showrooms, the company hopes to provide an accessible online platform for its prospects to shop for its products and services conveniently. This is also why the company has made it easy for homeowners to call for an on-site consultation online or over the phone.
Besides showcasing video testimonials, 99 Interior's YouTube channel also uploads videos on interior furnishing. Viewers can expect to get money-savvy tips on home decoration and learn how to make informed decisions when hiring a home furnishing service.
To find out more about the curtains in Singapore offered by 99 Interior and watch its customer testimonials, visit its YouTube channel here.
About 99Curtains.com
99Curtains.com is managed by 99 Interior, a Singapore-based company that specializes in curtains and blinds. Through its YouTube channel, it hopes to educate homeowners on how to make wise purchasing decisions when choosing curtains and blinds for their homes. They also specialize in wallpapers and window films.
Committed to providing professional interior furnishing services, the company provides non-obligatory on-site consultation, so that customers can talk to their team of experienced experts before making a purchase. Besides their YouTube channel, the company also has its own Facebook Fanpage and Google+ Page to interact with its customers and homeowners. Homeowners can easily locate 99 Interior through Google Plus.