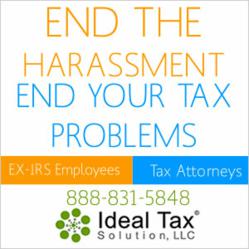 Only by continued monitoring and organized input can taxpayers truly have an effective impact on the rules and regulations of the tax code.
Costa Mesa, CA (PRWEB) February 27, 2013
Ideal Tax Solution, LLC applauds any effort which better facilitates an engaged and informed Internal Revenue Service. The TAP makes suggestions to the IRS based on taxpayer input and issues which are identified as problematic or potentially disruptive to the IRS tax collection process. The Taxpayer Advocacy Service, an independent organization within the IRS which makes recommendations and helps resolve problems, oversees and supports the TAP program.
"TAP members provide an important voice for taxpayers and provide valuable insights to help run the nation's tax administration system," says IRS acting Commissioner Steven T. Miller.
Nina E. Olson, National Taxpayer Advocate, adds, "It is critical that the IRS listen to the needs and preferences of America's taxpayers…the vital work of these citizen volunteers helps the IRS provide all taxpayers with the top-quality service they deserve."
Ideal Tax Solution supports any legitimate organization or initiative which allows taxpayers' voices to be heard and acknowledged by the IRS. Only by continued monitoring and organized input can taxpayers truly have an effective impact on the rules and regulations of the tax code which govern its enforcement.
"Many of our clients depend on us to keep them informed about new and existing procedures at the IRS," says Sam Price, Senior tax consultant at Ideal Tax Solution. "If we can't answer their questions, they'll find someone who can. That's why we make it a priority to stay on top of any newsworthy item released by the IRS."
TAP members are U.S. citizens with wide ranging demographic and geographic diversity, which provides balanced representation from around the country, including Puerto Rico. They volunteer for a three-year commitment and are expected to devote two to three hundred hours a year to panel activities. The tax help specialists at Ideal Tax Solution stay abreast of any TAP discussions which could have an effect on a taxpayer's tax liability.
Taxpayers can contact their local TAP representative by calling (888) 912-1227 or on the internet at http://www.improveirs.org. Written correspondence can also be sent to the TAP at the following address:
Taxpayer Advocacy Panel (TAP)
TA: TAP, Room 1509
1111 Constitution Avenue, NW
Washington, D.C. 20224
For U.S. taxpayers interested in finding out more about Ideal Tax Solution and their full range of in-depth and personalized tax preparation services, or for any tax help related issue, visit them online at http://www.idealtaxsolution.com. You can also reach them by phone by dialing 888.393.5154. Good tax tips and additional information can be found on their Facebook page and by following them on Twitter.
About Ideal Tax Solution, LLC – Located in Costa Mesa, California, the company provides a full range of tax preparation and resolution services as well as reassurance to taxpayers nationwide. With more than 55 years of combined experience providing American taxpayers with federal and state income tax solutions, Ideal Tax Solution offers an experienced staff which includes Enrolled Agents, CPAs and Senior Tax Consultants who stand at the ready to help with any tax issues.