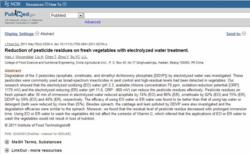 Acidic ionized water is very effective for washing off chemical pesticides from fruits and vegetables and kills food-borne bacteria such as salmonella, e.coli, and listeria.
Boca Raton, Florida (PRWEB) February 27, 2013
Researches at China Agricultural University recently discovered that three of the most widespread pesticide chemicals using in farming: acephate, omethoate, and dimethyl dichloroviny phosphate (DDVP), could be removed naturally and cleanly from produce by rinsing and soaking it in acidic electrolyzed water. Scientist noted that "pesticide residues on fresh spinach were reduced by up to 86% after being soaked for 30 minutes in acidic electrolyzed reduced water. Similar reduction rates were found when soaking cabbage and leek and reduction rates increased with prolonged exposure time. More importantly the vegetables did not suffer any loss in Vitamin C content and the efficacy of using electrolyzed reduced water was far superior to that of tap water"(US National Library of Medicine).
In separate studies Professor Yen-Con Hung from the University of Georgia discovered that "utilizing electrolyzed water to rinse fruits, vegetables, poultry and eggs is very effective at killing food-borne bacteria such as salmonella, e.coli, and listeria"(Yen-Con Hung). Cleaning with this water does not involve the use of any chemicals making it a green chemical free cleaner.
These studies confirm the many daily uses of acidic electrolyzed water in the household for chemical free disinfection and cleaning. Owners of Bawell water ionizer machines use this water every day to wash and clean produce. The Bawell company has been manufacturing these devices for the past 10 years and advocating the green cleaning abilities of acidic ionized water from its water ionizers. The company makes four different models which allow people to utilize this powerful, natural, green cleaner in the home.