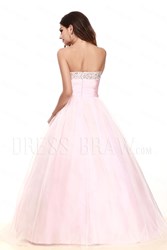 (PRWEB) February 27, 2013
Today, DressBraw.com, one of the leading brands in women fashion apparels, has revealed its Evening Dresses 2013 collection. The category also includes plus size evening dresses. In addition to this, there is a discount of up to 90% on all the outfits.
DressBraw is a worldwide recognized name in women wedding and special occasion dresses market. The company supplies premium quality outfits while keeping the prices to lowest possible. In line with its aim of offering affordable rates to all the customers, the new evening dresses collection is too composed of outfits which are highly affordable.
The evening dress collection launched has a wide range of different dresses including short knee length frocks and elegant long gowns as well. Rich in splendid chic colors, trendy new designs and made from soft comfortable fabric, the new line of dresses in the evening dresses collection is also offered in plus size. The new collection comes with the facility of free shipping as well. This shows how Dress Braw cares and caters for the varying needs of several different customers worldwide.
In addition to the trendy dresses, the customer service department at Dress Braw also makes the company a favorite one among its many customers. Their services and dealings are fair and amiable with fast delivery services and easy return policies.
Operating in 230 countries in US, Europe, Australia and Asia, DressBraw.com is a China based company having customers in all parts of the world. The company is a trendsetter in women wedding and special occasion dresses. With its competitive prices and superior quality outfits, Dress Braw is unmatchable.
For more information, please visit: http://www.dressbraw.com/?utm_source=content&utm_medium=news&utm_campaign=index