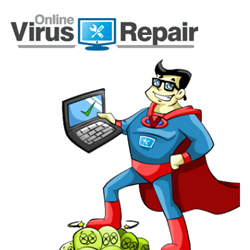 Unfortunately, most anti-virus software is behind the curve. It's important to have computers checked out regularly by professionals.
San Luis Obispo, CA (PRWEB) February 27, 2013
According to OnlineVirusRepair.com spokesperson Dan Steiner, a 2012 study conducted by the Israeli Institute of Technology and data security firm Imperva, reveals traditional antivirus protection software is relatively ineffective.
The study indicated the major players in the industry such as McAfee, Symantec, Trend Micro and others were able to catch only 5% of newly created computer viruses and malware. In addition, the study indicated many of these vendors took up to four weeks to update their software to take account for the latest cyber threats.
Steiner, who co-founded OnlineVirusRepair.com exclaimed, "The report was shocking because individuals and organizations spend approximately $7 billion a year on anti-virus software alone. They are clearly not getting a sound return on their investment. In addition to throwing money away on software, there data and machines are at a high risk of becoming infected."
As part of the study, a fake Google Chrome installer was reported to the website VirusTotal.com on February 9, 2012, yet by November 17, 2012 only 23 of the 42 software products tested were able to detect it.
Steiner went on to say, "The study revealed to us why our malware removal service is becoming so popular. Our technicians are able to remotely remove viruses and malware from people's computers – typically in a matter of minutes."
About OnlineVirusRepair.com
OnlineVirusRepair.com is an American based company specializing in computer cleanups for individual computer users and businesses. The company was founded in 2012 by Dan Steiner and is headquartered in San Luis Obispo, CA. Customers with infected machines can call or chat with OnlineVirusRepair.com technicians to have viruses/malware/spyware removed remotely without the hassle of taking their computer "into the shop." Technicians are able to remotely remove threats even without the client being at their computer; often in 30 minutes or less.
To learn more about OnlineVirusRepair.com visit their website at http://www.onlinevirusrepair.com today.