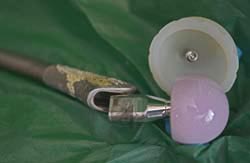 Minneapolis, MN (PRWEB) February 27, 2013
Patients throughout the United States with alleged Stryker Rejuvenate and ABG II hip stem problems are seeking compensation in New Jersey multi-county litigation (MCL). PritzkerOlsen, P.A. attorneys Fred Pritzker, of Counsel David Szerlag and Brendan Flaherty are three of the lawyers representing clients whose cases are part of this MCL coordination in NJ (In Re: Rejuvenate Hip Stem and ABG II Modular Hip Stem Litigation, Superior Court of New Jersey, Bergen County, No.296). Howmedica Osteonics Corporation, dba Stryker Orthopaedics, Inc. (Stryker), is the defendant in the MCL litigation. The judge assigned is the Hon. Brian Martinotti. Judge Martinotti has extensive experience in centralized litigation and is also the judge assigned to the NJ Depuy ASR cases.
"We allege that our clients' hip implants failed due to a design defect that allowed chromium and cobalt ions to rub off of the Rejuvenate and ABG II stems, causing metallosis," said Pritzker. "Our clients have made claims for compensation to hold Stryker accountable for their alleged injuries, including necrosis of bone and soft tissue, osteolysis, formation of pseudotumors, infection, loosening of the hip implant, swelling and pain."
The Stryker MCL order states that all Stryker Rejuvenate Hip Stem and ABG II Modular Hip Stem litigation actions are to be centeralized for coordinated management in Bergan County for the purpose of avoiding duplication of procedures and to prevent conflicts. The MCL does not consolidate the many lawsuits filed by patients. The order specifically states that that the MCL does not consolidate the many lawsuits filed by patients and that each action will retain its own docket number.
"An MCL is not a class action," explains Pritzker. "Each lawsuit maintains its own identity and is resolved on its own merits. Only the pretrial procedures are centeralized."
The Stryker MCL was prompted by a June, 2012, recall by Stryker Orthopaedics, Inc. of its Rejuvenate and ABG II modular-neck hip stems. According to the recall announcement, these products have the potential to cause fretting and corrosion, which could lead to metallosis (metal poisoning from chromium and cobalt).
Attorneys Fred Pritzker, David Szerlag and Brendan Flaherty represent clients nationwide in product liability and mass tort lawsuits against manufacturers. They are providing free consultations to Stryker hip replacement patients, who can call 1-888-377-8900 (toll free). PritzkerOlsen, P.A. has offices in Minneapolis, MN. David, of counsel attorney for PritzkerOlsen, has offices in the Boston, Massachusetts area, Providence, Rhode Island and Minneapolis, Minneasota. The Minneapolis offices are located at 45 South 7th Street Suite 2950, Minneapolis, MN 55402. For more information, please see "Stryker Hip Recall FAQ and Lawsuit Information."