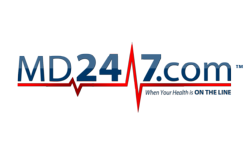 MD247 Reviews on Facebook.
Tampa Florida (PRWEB) February 27, 2013
MD247 announced this week that it would be inviting participation of telemedicine program members on the company Facebook social media page. The goal for member participation and engagement is to aggregate all ongoing real time reviews from live telemedicine program members, and for those MD247 reviews to serve as telemedicine testimonials. The consumer participation as a whole serves as one component in a larger plan to verify that telemedicine is not a scam, a fraud or any type of medical ripoff.
MD247 determined that ongoing interaction of telemedicine program members on the Facebook page was both necessary and appropriate, when one looks at the new way that consumers determine their purchases. All team members recognized that consumers are visiting Facebook to review a myriad of products that range from things like favorite food to telemedicine programs. Implementing a canned broadcast system of Facebook posts, while choosing to ignore the thoughts and engagement of MD247 telemedicine program members, was considered an improper approach to customer care. The ultimate goal of the social media plan is to get everyone comfortable enough to provide MD247 reviews on the Facebook page at http://www.facebook.com/md247dotcom.
Largo Florida based MD247 (MD 247; MD/247; M.D. 247; MD247.COM) provides discounted telemedicine healthcare services nationwide to families, and discounted wholesale telemedicine healthcare to businesses. MD247 has successfully provided 25,000 people the ability to talk to a doctor twenty-four hours a day, talk to a nurse twenty-four hours a day, receive discounted prescription drugs and receive discounted in-person healthcare services. In addition to discounted healthcare services, MD247 provides support to groups supporting the employment of veterans of the United States Armed Services. MD247 services, as well as informational blogs, can be found for review online at http://www.md247.com.