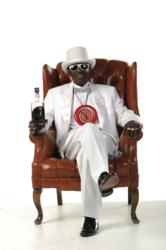 "I'm excited my friends and fans can own a piece of this and take the journey with me." stated Flavor Flav
Henderson, Nevada (PRWEB) February 27, 2013
Amerigo Energy, Inc. "The Company" ( OTCBB: AGOE ), announced the completion of the acquisition from Le FLAV Spirits, LLC of its assets and intellectual property.
Le FLAV Spirits, LLC owns the assets, trademarks, contracts, formulas, licenses, existing inventory and rights to the "Le FLAV®" spirits brands. This is to include Le FLAV® Brooklyn Iced Tea, Chateau Le FLAV®, Le FLAV® Cocktails, Le FLAV® Cognacs, Le FLAV® Super Premium Vodka & Flavored Vodkas and all flavors currently in production and contemplated.
Terms of the acquisition agreement were filed with the Securities and Exchange Commission and disclose shares of stock, a promissory note and warrants of the Company stock. The warrants are exercisable at $1.00 per share and the promissory note is convertible at $1.00 per share or with principal payments due on the note at $1 per bottle sold. There are 360,000 shares of stock being issued for the purchase.
Anthony Capomaccio, the company's co-founder stated "Flavor Flav's global recognition and the continued growth in the market for spirits are exciting prospects for the company." Mr. Capomaccio's background includes successfully launching other liquor brands, having strong relationships with liquor distributors and liquor retailers as well as tremendous ties in the nightclub industry. He continued "We see this as a win-win for AGOE, Flavor Flav and the brand as this will provide additional opportunities for everyone."
Amerigo is excited to bring value to it's shareholders through the launch of a celebrity endorsed liquor brand.
Concurrent with execution of this agreement, the Company has engaged Flavor Flav to assist in promotion of the brand and to go "on tour" doing appearances and bottle signings all over the country. "I'm excited to be the 'hype man' for my own spirits brand, promoting a company that's all about the fun. I'm even more excited that by going public, my friends and fans can own a piece of this and take the journey with me." stated Flavor Flav.
"Today is a great day for our shareholders. We are excited about the entrepreneurial efforts of Flavor Flav and looking forward to his assistance as we grow this brand and acquire more to create multiple revenue generating opportunities for the company. We strongly believe the addition of Le FLAV® Spirits to our company will provide shareholder value and give the liquor brand the ability to launch globally." stated Jason Griffith, Amerigo Energy's Chief Executive Officer.
More information is available at http://www.leflav.com and the EDGAR database on http://www.sec.gov
"Safe Harbor" Statement under the Private Securities Litigation Reform Act of 1995 Statements in this press release relating to plans, strategies, economic performance and trends, projections of results of specific activities or investments, and other statements that are not descriptions of historical facts may be forward-looking statements within the meaning of the Private Securities Litigation Reform Act of 1995, Section 27A of the Securities Act of 1933 and Section 21E of the Securities Exchange Act of 1934. Forward- looking information is inherently subject to risks and uncertainties, and actual results could differ materially from those currently anticipated due to a number of factors, which include, but are not limited to, risk factors inherent in doing business. Forward-looking statements may be identified by terms such as "may," "will," "should," "could," "expects," "plans," "intends," "anticipates," "believes," "estimates," "predicts," "forecasts," "potential," or "continue," or similar terms or the negative of these terms. Although we believe that the expectations reflected in the forward-looking statements are reasonable, we cannot guarantee future results, levels of activity, performance or achievements. The company has no obligation to update these forward-looking statements.
For more information please contact:
Krista Whitley Castellarin
1-702-812-6555