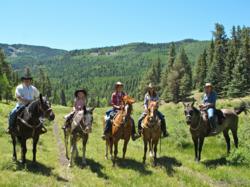 Antonito, CO (PRWEB) February 28, 2013
There is tremendous variety amongst Colorado dude ranches and the choice can be overwhelming. The following are some considerations and tips from Jane Van Berkum of the Rainbow Trout Ranch as a guide when choosing the right ranch for a family vacation.
1. Is it family friendly? There are dude ranches that cater only to adults, or that do not have kids' or teen programs. But there are many that have a variety of activities geared towards youth. As dude ranchers know, if the children have fun, the parents will too. A perfect family dude ranch vacation will cater to all ages.
2. Do they own their horses? Many dude ranches lease horses each summer, and while they often lease the same horses, ranches that own their horses tend to know their horses better which in turn benefits their riding program. Other pertinent questions would be the ratio of horses to guests as well as wranglers to guests, type and variation of terrain, and levels of instruction.
3. Location. While altitude and distance from a major airport (unless driving) are major factors when choosing a ranch, many dude ranch guests want to combine their ranch experience with sightseeing on the way to or from a ranch. Look into national parks and areas of interest and choose a ranch that you can wrap a trip around. And remember, sometimes a ranch that is a little harder to get to can provide wonderful opportunities for adventure.
4. Does it have a pool? Although most guests do not go to a dude ranch for the swimming, having a pool is a great way to cool off after a day on the trails, and kids always love pools. Although many ranches have rivers through the property, running water in the Rocky Mountains tends to be too cold for prolonged swimming. And a pool can be an excellent après riding gathering place. Keep in mind that many ranches do not have a lifeguard except for when counselors are on duty.
5. Does the ranch accommodate dietary requests and requirements? With gluten free, dairy free, vegetarian, vegan and other eating choices on the rise, dude ranch guests need to check ahead that their requirements can be met. Most ranches are more than willing to accommodate but advance notice is always preferred and encouraged.
**Tip: It is also prudent to share medical and any other important information with the ranch ahead of time. Since ranches can be remote, being forewarned allows the ranch to make appropriate arrangements and to prepare their staff.
About Rainbow Trout Ranch
Rainbow Trout Ranch is a family owned dude ranch in excellent standing with both the state and national dude ranching associations, and exclusively five star reviews on Trip Advisor. The ranch has a long tradition of providing superb western hospitality for families, couples, groups and singles looking for an adventure vacation in the Rocky Mountains of southern Colorado. Inquiries can be made to 800.633.3397 and their website is shown below.