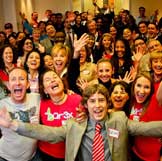 brian Mac Mahon, CEO of Your Office Agent will be speaking at GCUC, the global coworking conference again this year.
(PRWEB) February 27, 2013
It began in 2010 as the Coworking Unconference as a half-day event with 150 people in attendance. The event grew the next year when Liz Elam, owner of Austin's Link Coworking, took over and renamed it the Global Coworking Conference Unconference (as a nod to Stephen Colbert's nomenclature tendencies), expanded the event to a full day, and used the event to show the industries that coworking is not just a passing trend. In fact, according to Deskmag, coworking is growing at a rate of over 200% per year and has been for 7 years straight. The GCUC 2012 conference will have over 200 leaders of the coworking industry, Corporations and executive suite industries (to name a few)
GCUC features over 40 speakers addressing some of the most important topics in the coworking industry. GCUC speakers include the CEO's of Rockethub, Turnstone, Your Office Agent and MBO Partners. Coworking trendsetters like Marissa Feinberg of Greenspaces, Alex Hillman of Indyhall and Benjamin Dyett of GRIND will all be in attendance. As far as Coworking is concerned there is only one city to be in on March 5th and 6th. Austin, TX. - where the word Coworking is googled more than anywhere else in the world. CEO for Your Office Agent, Brian Mac Mahon, was proud to be listed as one of the few real estate professionals to be invited to speak.
Your Office Agent are a specialist global commercial brokerage with an expertise in lean workspace. This means that they make it their business to have an in-depth knowledge of all workspace options from coworking to executive suites, to teleworking and everything in-between. To contact the team at Your Office Agent email contact@yourofficeagent.com or call 800 600 0881 and to know what coworking is then the folks at GCUC made a video to answer that very question:
http://www.youtube.com/watch?v=le0dfcG_jVw
About the 2013 Global Coworking Conference Unconference:
GCUC is a two-day coworking conference that aims at giving the coworking community an opportunity to engage in person with one another, share purpose and passion, and refresh their energy in the process. GCUC will take place on March 5th and 6th, 2013 at the Austin Music Hall in Austin, Texas. To learn more, please visit http://www.austingcuc.com