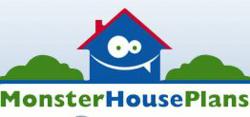 If you see a house plan for less at another online house plan store, we will beat that price, guaranteed.
Spokane, WA (PRWEB) February 27, 2013
Officials with Monster House Plans announced today that it has officially launched its Best Price Guarantee.
"If you see a house plan for less at another online house plan store, we will beat that price, guaranteed," said Jeff Spring, president of Monster House Plans, a company that has pre-drawn stock house plans that it says will save thousands of dollars when compared to starting from scratch with a professional designer or architect. "Don't worry about price. Just get the plan that's right for you. We will make sure you get the best price."
Spring explained that in order to match a price, customers need to call to place their order, or include the link to the specific plan in the comments box when they order the item online.
"The item must be identical to our item," Spring said, before adding, "Items that have been price-matched are not eligible for additional discounts."
The company president went on to note that price matching is not available on previously placed orders.
"This excludes special orders, bid pricing, volume discounts, sales tax, rebate and free offers, and typographical errors," said Spring.
Spring stressed that the company's Best Price Guarantee gives people the opportunity to save a bundle on house plans.
The Best Price Guarantee is the latest of dozens of features and discounts the company has rolled out in the past six months.
With more than 23,000 home floor plans to choose from, Spring said, being able to get the lowest price available on all of them is hard to find anywhere.
"We're all about having happy customers who walk away with what they want and at the best price available," Spring said. "Our Best Price Guarantee is a win-win for both our company and our customers."
For more information, please visit: http://www.monsterhouseplans.com/best_price_guarantee.html and http://www.monsterhouseplans.com/blog/
About Monster House Plans
Our commitment to provide you with exceptional house plans at affordable prices has made us a leader in providing house and floor plans in North America.
With our staggering collection of over 23,100 house plans, you are sure to find a plan that meets your dream home criteria.
We offer over 35 styles to choose from including Mediterranean, Italian, Greek or French house plans, traditional, country or contemporary home plans, as well as waterfront, craftsman and log home plans.
We are truly a one-stop shop for house plans on the Internet. Search for Monster House Plans on Google: http://goo.gl/z9pvF
###