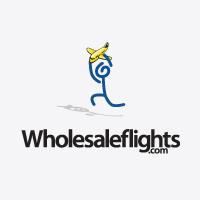 What we have here, is a hybrid of two travel concepts, both of which have enjoyed tremendous success, but needed to build on the benefits of the other
(PRWEB) February 28, 2013
In recent years, despite the deep recession and difficult economic climate, the travel industry has been one of the few to see growth and a true recovery. This is particularly true of luxury travel outlets, and Wholesale Flights is no exception. The site, which caters to travelers searching for business class flights and first class tickets at discounted rates, works to bring customers the personal attention of a travel agent, but with the convenience of online booking.
The unique format is a hybrid of the travel agencies of past decades, and the more popular online booking sites that have become the go-to for creating travel plans. For many years, it seemed as if the travel agency and agent had become obsolete, with travelers instead looking to site such as Priceline.com to complete travel and booking plans, but for many travelers, particularly those with luxury tastes, there seems to be a growing need for more personalized service.
The innovative service provided at Wholesale Flights means that each customer is assigned a personal concierge, who handles all aspects of service for a customer, for the booking of first and business class flights. The travel experts act as a travel agent would, by searching for the best possible deals for customers, and making arrangements on their behalf. Unlike other online travel sites, the personal concierge assigned to travelers by Wholesale Flights is not located in an impersonal call center, but instead can be reached at any time by phone, email and text message.
"What we have here, is a hybrid of two travel concepts, both of which have enjoyed tremendous success, but needed to build on the benefits of the other," said a spokesman for Wholesale Flights. "We saw the popularity of online travel booking sites, but often, customers, especially those customers booking more luxurious travel arrangements, often reported feeling as if they were lost in the shuffle. It can be scary to book on one of those big travel sites, because sometimes, you really just don't know what you're going to get, which is why we offer the convenience of an online booking site, but with the personal attention and peace of mind that comes from having your own travel agent."
Travel concierge assigned by Wholesale Flights will assist customers every step of the way in the flight booking process, from finding the best rates, to answering questions and even changing or canceling flights. The site works to not only provide customer service that goes above and beyond any other travel site, but at the same time Wholesale Flights also strives to help customers find the best deal on the best flights.
About Wholesale Flights
Wholesale Flights (wholesale-flights.com) is a travel website, offering deeply discounted business class tickets, first class and economy class airfare, as well as discounts on accommodations. The site also offers excellent customer service and unparalleled personal attention, making it the go-to choice of luxury and business travelers.