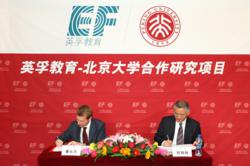 Foreign languages may function as a bridge to a deeper understanding of cultures and civilizations
Beijing, China (PRWEB UK) 27 February 2013
The EF-Peking University School of Foreign Languages Research Program will focus on how Chinese people learn English, as well as conduct highly practical research on the difficulties and challenges encountered by Chinese students.
Following this landmark agreement, EF now has joint research projects with three leading universities on three continents: the University of Cambridge in England and Moscow State University in Russia, as well as Peking University in Asia.
"We are proud to be working with Peking University," said Bill Fisher, CEO of China. "This year marks EF's 20th anniversary in China and our collaboration will help us remain at the forefront of language teaching in China and contribute to further our understanding of the most effective ways for Chinese students to learn English."
Dean of the Peking University School of Foreign Languages, Professor Cheng Zhaoxiang said, "Foreign languages may function as a bridge to a deeper understanding of cultures and civilizations. The acquisition of basic English language skills is a launch pad for broader communication and the exchange of ideas between China and the international community. EF's extensive experience of teaching English in China makes EF a good partner for our research program."
The EF-Peking University School of Foreign Languages Research Program is the first high-level joint research program between Peking University's School of Foreign Languages and an international education company for advancing English teaching studies.
About EF Education First
Founded in 1965, EF is the world's leading international education company with a mission to break down barriers in language, culture, and geography. EF's long history in China includes serving as the Official Language Training Supplier for the Beijing 2008 Olympic Games. As one of the nation's oldest established English training schools, EF marks its 20th anniversary in China in 2013 with nearly 200 English schools across the country. http://www.ef.com.cn
About Peking University's School of Foreign Languages
Established in 1898, Peking University is China's first and oldest national university. The School of Foreign Languages brings together the world's brightest academic minds to study the field of foreign language and literature in China—departments include English Language and Literature, Western Languages and Literature, and Russian Language and Literature. http://www.pku.edu.cn