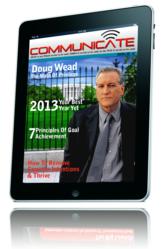 The quality of your results is directly related to the quality of your communication. - Clare Mann
Sydney, NSW (PRWEB) February 28, 2013
In the most recent issue of Communicate iPad Magazine, published by Communicate31, relationships are examined from the unique perspective of an eminent Sydney psychologist who has interviewed over a 1000 clients over the past 20 years.
Clare Mann, organizational psychologist, communications expert and best selling author provides a simple formula for understanding the nature of conflict or harmony in relationships.
This formula, when learned and applied by individuals at work or at play, has the potential to positively transform communication and save otherwise failing relationships. In this issue, a video of best-loved Australian comedian Carl Barron conducts a humorous and insightful role-play with Clare Mann of a difficult romantic relationship.
Often people have learned a particular behavior that they think serves them well. However, rather than consciously adapting their behavior to connect effectively with others and respond appropriately, they are re-running psychological programs learned in childhood which as an adult may be ineffective. These programs are often out of reach of the conscious mind and with skilful intervention, a person can learn to make sense of them and make informed choices to respond more appropriately. Until an individual is aware of the internal triggers that get pushed in interpersonal relationships, they can feel at the mercy of others and unable to improve their relationships.
The Communicate iPad magazine is a monthly publication, providing strategies and techniques to positively improve relationships whether in the boardroom or the bedroom, and everywhere in-between. Each month, Communicate focuses on a particular area of personal communication skills and includes interviews, case studies, articles and the regular Ask The Calm Communicator column.
About Clare Mann:
Clare Mann heads up leading communications company Communicate31, an organization providing communication skills training and consultancy to help individuals and organizations overcome challenges that inhibit them from achieving optimal performance and satisfying relationships. Communicate iPad Magazine is a valuable monthly companion to her latest book Communicate: How to Say What Needs To Be Said, When It Needs To Be Said, In The Way It Needs To Be Said.