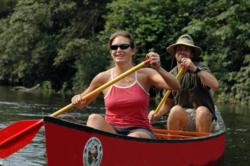 We know that Belize is the most romantic spot on the planet.
(PRWEB) February 27, 2013
The Lodge at Chaa Creek is making their "Springtime Romance in Belize" initiative even more enticing this year with significant discounts and a commitment to "go the extra distance" for couples during the coming months, the eco resort's holiday planner Denise Duran announced recently.
"We know that Belize is the most romantic spot on the planet, what with the profusion of flowers blooming everywhere, intimate adventures to share and as the home of Ix Chel, the Maya goddess of love whose people invented the food of love – chocolate," Ms Duran said, "And this spring we want to make it even more seductive and affordable for couples, with a 15% discount off all of our accommodation, from the lovely thatch roof cottage rooms to the exquisite tree top and private Jacuzzi suites."
Ms Duran said that Chaa Creek is proud of its reputation as the pioneer of adventure romance in Belize. "Simply put, adventure romance involves couples getting out of the everyday humdrum routine and sharing something exotic and memorable together. We've always believed that sharing a unique experience in a beautiful location brings couples that much closer together and gives them something special to remember for the rest of their lives," she said.
Bookings made this springtime, between 7 April and 31 May 2013 will receive savings of 15% off all rooms at Chaa Creek, she said.
"And couples should remember that a room or suite at Chaa Creek is much more than just lodging. It gives access to our 365 acre private rainforest reserve with an amazing range of activities for adventurous couples. And of course, for the more laid-back there's always lounging and swimming around the infinity pool, swinging in a hammock with a cold drink on your private veranda, enjoying a couples massage at our professional Hilltop Spa or a soak in a Jacuzzi after a candlelit dinner. The romantic possibilities are endless," Ms Duran said.
The Lodge at Chaa Creek is also home to the Belize Natural History Centre, the Hilltop Spa, a fine dining restaurant, a well-stocked Jungle Lounge and a working Butterfly Farm where huge, iridescent Blue Morpho butterflies are hatched. "What with the abundance of tropical flowers, the hummingbirds, toucans, parrots and other birds, our lovely gardens and the romantic ambience of Chaa Creek, love can't help but blossom," Ms Duran said.
Chaa Creek is also known for its affordable all-inclusive Belize vacation packages that offer complete Belize holidays including everything from airport pickup and drop off, all transfers, a range of accommodation options and all meals, activities, gratuities and even government taxes for one set price. "With absolutely everything except for alcoholic drinks taken care of and no hidden costs or surprises, couples can relax and concentrate on just being together while enjoying the romantic interlude of a lifetime.
"Our all-inclusive Belize Wedding and Belize Honeymoon packages have a great reputation in the travel industry for offering elegant and affordable celebrations for couples who want to do something truly extraordinary," Ms Duran said.
Ms Duran said Chaa Creek also offers "Bespoke Belize vacation packages," where the eco resort's experienced holiday planners work with couples to create tailor made vacations that reflect their own tastes and interests.
"We believe that a romantic holiday means not sweating over details and just being immersed in the beauty and adventure of Belize. And now, with 15% off all accommodation, it's easier than ever. Love really is priceless, but that doesn't mean you can't appreciate a little savings," Ms Duran said.