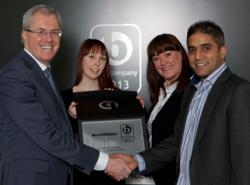 London, UK (PRWEB UK) 28 February 2013
In its first year entering The Sunday Times 100 Best Companies To Work For, ID Medical achieved the result of 'outstanding'.
The Sunday Times Best Companies Accreditation was established to acknowledge excellence in the workplace, and accreditation is a focus on workplace engagement as an integral component of an organisations success and growth.
The Michelin style Accreditation recognises organisations by Star Status, achieved by undergoing a Best Companies controlled survey to ID Medical employees exploring workforce engagement, employee satisfaction and rewards. The returning findings culminated the result of ID Medical being awarded Two Stars as Outstanding.
At a celebratory event at Best Companies' Art of Engagement facility, ID Medical's managing director Deenu Patel met Jonathan Austin, Best Companies founder and CEO, who presented Mr Patel with the award. A delighted Patel commented: "Our employees are the cornerstone of our business and their wellbeing and engagement foster true commitment. Our complete induction programme when onboarding new employees sets the standard for our consultants to fully comprehend the NHS and medical sector, and the challenges it faces. This real understanding ensures our consultants are capable of driving efficiencies to the NHS through our innovative medical staffing solutions, and by providing only the best in professional medical practitioners allows our clients to focus their effort to patient safety and quality of care.
This Accreditation sets the benchmark for us to measure against whilst we continually improve our employees' engagement and satisfaction levels. Nurturing a healthy and happy work environment ensures our employees triumph in their personal goals."
###
About ID Medical
ID Medical was established in 2002 and has since maintained its enviable position as market leader in the provision of high calibre medical staffing to both the public and private sectors. As the leading provider of locum doctors, nurses and AHPs, ID Medical holds preferred supplier contracts with over 80% of hospitals nationwide. It supplied over 1.3 million hours in 2012.
Founded on its core principles of quality of service, dedication, innovation and 100% commitment, ID Medical provides a complete medical staffing solution to its valued partners. Its services form part of the NHS procurement, with the ID Medical brand becoming synonymous with quality and dedication to the requirements of its clients and candidates alike.
For further information on ID Medical please contact:
Caryn Cooper
head of marketing
ID MEDICAL - ID House - 1 Mill Square - Wolverton Mill South - Milton Keynes - MK12 5ZD
t: +44 (0) 1908 555 498
f: +44 (0)1908 552 825
w: id-medical.com
e: caryn.cooper(at)id-medical(dot)com