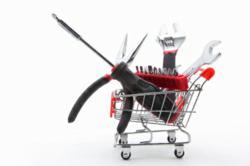 In times of financial uncertainties, it is important for everyone to be enterprising and keep the DIY spirit high
New York City, New York (PRWEB) February 28, 2013
"How to DIY: Your Total Guide for DIY Directions that Really Work" is an extensive guide published by Financesonline.com that offers quick and handy yet comprehensive Do-It-Yourself reference that is also very timely, with the DIY movement growing stronger as many American families continue to face tough financial challenges.
The Guide is divided into six interesting sections, each focusing on important DIY topics of interest for DIYers of all skills level. It helps readers:

Prepare and plan for awesome DIY projects
Check readiness and capability in handling a DIY project
Decide which projects are better left to the pros
Treat a DIY project like an investment
Take precaution when it comes to DIY services
How to become better and wiser DIYers
The article is written in a direct and straight-to-the-point approach so that readers will easily pick practical tips from real people who share their successes and some lessons learned the hard way, helping readers create DIY projects that work and prevent waste of time and money that comes with no preparation, bad planning and wrong ideas.
Many consumers naturaly want to learn how to do some things on their own instead of paying for them. With today's unemployment rates, stagnant wages and higher taxes, there is a more pressing and urgent need to cut down on spending and save.
"How to DIY: Your Total Guide for DIY Directions that Really Work" contributes to the growing DIY community by helping educate average Americans on how to improve their living conditions and take responsibility. The article supports the DIY movement's aim of guiding people to be independent, responsible and take charge of their own future.
In times of financial uncertainties, it is important for everyone to be enterprising and keep the DIY spirit high. More valuable DIY help can be found in "How to DIY: Your Total Guide for DIY Directions that Really Work" by Financesonline.com