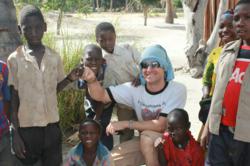 I believe that I brought home more from this trip than the leaders that I counseled
Lancaster, PA (PRWEB) February 28, 2013
Joe Sharp, a Lancaster entrepreneur and life coach, has returned from Mozambique primed to employ his skills and message internationally. The journey into the heart of Africa brought a rekindled passion for coaching, counseling, and encouraging the foreign church.
"I believe that I brought home more from this trip than the leaders that I counseled", said Sharp, "I'll go wherever God leads, but this excursion has been proof for me that I can't limit my ministry to the states; it's something that needs to be broadcasted internationally, especially if it stretches my faith."
The 12 days abroad was well spent with renowned missionary Heidi Baker and her IRIS Ministries, a Christian organization that has created a unique network of schools and clinics to support one of the poorest communities in the world. As a part of an American group sent by Global Awakening in Mechanicsburg, PA, Joe worked with IRIS' senior leadership to coach them in their dreams and aspirations for ministry.
Author of Running Down Your Dreams, a guide to discovering your passions, Joe Sharp looks to answer the global call in 2013 and beyond. Invitations to India, Iraq, Honduras and Thailand mark his 2013 itinerary, where he will be posed with an opportunity to tutor business and ministry leaders from all around the world.
Joe is an entrepreneur that has been a part of the inception of seven successful business ventures in his short 34 years. He currently coaches intercontinental business professionals and leaders alike with his Live With Purpose Coaching organization, while overseeing the Lancaster based internet marketing company, Sharp Innovations.