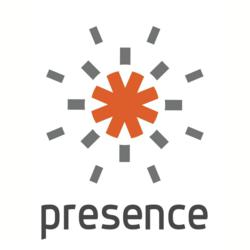 Presence, charisma. People think you've either got it or you haven't. It's simply not true. It can be taught. And we can teach it to you.
London (PRWEB UK) 28 February 2013
You might have heard the saying that many people are more scared of public speaking than dying - the comedian Jerry Seinfeld famously quipped that this means that at a funeral most of the people there would rather be in the coffin than delivering the eulogy.
It's certainly true that many of us experience some kind of anxiety around public speaking. March 2013 will see the launch of a new company in London that promises to change all of that for anyone who trains with them.
The company is called Presence and it offers "confident speaking from the inside out".
How Presence offers a different approach to public speaking:
Co-Founder Millie Baker explains: "Most public speaking training works from the outside in – trainers offer techniques and advice on how to plan and structure a speech, how to stand, how to use your breath and voice etc. This is valuable work, but it doesn't help people build fundamental confidence. That's how our public speaking courses are different. We use a method called Speaking Circles to help speakers build genuine confidence on the inside, so they stop trying to perform and are able to build a real relationship with their audience. This not only makes the audience more interested and willing to hear what the speaker has to say, but it also makes the speaker feel more at ease."
Her training partner Daniel Kingsley continues: "We can teach anyone what the naturally best public speakers, the Bill Clintons and Barak Obamas, instinctively know - how to build natural rapport and let their personalities shine through. And this is the skill which is the foundation of great public speaking, communication and leadership. It's no good knowing how to stand and what to do with your hands if you can't make a real human connection with your audience."
"This is the piece which is prior to what most others teach, very few others are teaching it, and this is what you need to learn first."
Daniel gives some background and explains what drew him to this work: "The Speaking Circles method was developed by former stand-up comedian Lee Glickstein as a way for him to overcome his public speaking anxiety. He discovered that not only did it have this effect, it helped him be a much more authentically engaging speaker in the process. He's carried this method over into developing his public speaking courses and public speaking training, and that's what drew me to this work. I worked as a barrister in the UK for 15 years and thought I was a confident and compelling speaker, but discovering this work took my ability to speak in public to a whole new level. I was so impressed with it that I decided I had to train to teach it. I love seeing the transformation in people - nervous speakers becoming confident ones, confident speakers becoming people that audiences really want to listen to."
Why authentic public speaking and presentation skills are needed now in business:
Daniel and Millie have been successfully training individuals in this method of public speaking for a couple of years and are now very excited to be taking this work into businesses for the first time. Daniel explains:
"We're currently the only London-based company training people in the Speaking Circles method. It seems to us this work is really needed at this time. Customers and audiences are fed up of being spun at. What they want is to be told the truth by someone who is interested in making a genuine connection. What we are teaching people is that it's not only OK to be authentic, it's going to make a real difference to your relationship with your audience and your customers. And once people experience this is true they never look back. It's really exciting to be training people in this work".
Summary: Former barrister Daniel Kingsley and presentation trainer Millie Baker will launch Presence, the first company in London to use the powerful Speaking Circles authentic speaking method in March 2013. The method, as taught in their public speaking courses, supports nervous speakers to become confident ones and already-confident speakers to become much more compelling and engaging. Authenticity is the keystone of this work and differentiates it from many of the other ways of learning public speaking in the marketplace.
Company History: Daniel Kingsley was a barrister for 15 years before discovering the Speaking Circles method. Millie Baker had been a presentation trainer, teaching traditional presentation training methods when she discovered it. Both were so impressed that they decided to dedicate themselves to teaching it. Having successfully trained individuals for some time, in August 2012 they formed Presence, a company dedicated to taking this important work into business, where they believe it is much needed. The company runs public speaking and presentation training courses in London and the surrounding area.
For more information about Millie and Daniel's work visit the Presence public speaking website http://www.presencetraining.co.uk.
For more specific information about how this work helps people cope with public speaking anxiety follow this link.