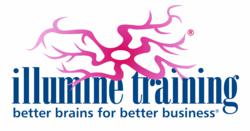 Many employee surveys suggest that employees who received ongoing training and development in their job are more engaged with their work and are likely to be more loyal too.
(PRWEB UK) 28 February 2013
A current online survey by Findcourses.co.uk reveals that 53% of survey participants believe that the most relevant benefit of e-learning compared to classroom based learning is the lower cost, which makes further learning more affordable. Illumine Training's e-learning courses certainly prove that belief, as a place on any of their e-learning courses costs just £49, which is affordable for personal development as a hobby and for employee training for small businesses.
"Our courses provide delegates with a skill set for life," says Clive Lewis of Illumine. "For example, our speed reading course will train anyone to use their reading time more efficiently. If you spend 40% of your day reading reports, news stories, educational material etc and you can double your reading speed, you could save a day a week."
Illumine training are currently running a competition to win a free place on their Speed Reading e-Learning course to save both time and money.
Since 1999 the Campaign for Learning have been organising National Learning at Work Day to promote work-based learning across the UK.
"LAW Day is significant to us. We receive fantastic feedback after our courses relating to how much more productive those that have taken the courses have become. There seem to be employers out there that don't train staff at all. Many employee surveys suggest that employees who receive ongoing training and development in their job are more engaged with their work and are likely to be more loyal too," Clive comments.
Companies taking part in LAW Day on 23rd May 2013 include small businesses, corporations and training providers across the UK. Last year, thousands of businesses including WHSmith and Warburtons took part, encouraging their staff to have an interest in learning by allowing them extra time for reading and providing support materials.
Aside from their current competition, Illumine Training are supporting further development in the work place all year round by offering free online tools such as a grammar test, a speed reading test, an introduction to mind mapping and various downloadable topic sheets from their website http://www.illumine.co.uk.
Company Information:
Illumine Training provides management and personal skills development, focused on developing better brains for better business. The range of courses and workshops has been developed to contribute significantly to organisations' management and personal development.