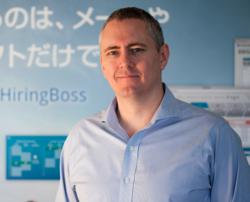 JAFCO's investment in us marks a new chapter in the HiringBoss story
(PRWEB) February 28, 2013
Tokyo / Singapore: http://www.hiringboss.com HiringBoss (http://www.hiringboss.com) the Asia-based human resources and eRecruiting software firm, today announced the completion of its Series A financing with JAFCO, totaling $5 million US Dollars. This major new investment further underlines HiringBoss's status as Asia's fastest-growing talent management providers and one of the region's most exciting new start-ups.
HiringBoss CEO Bernie Schiemer today commented, "JAFCO's investment in us marks a new chapter in the HiringBoss story. First and foremost this legitimizes our business proposition and is recognition of the need for an Asia-based executor on talent management solutions. For too long, businesses in Asia have had to settle for overly complex US and Eurocentric solutions that don't take into account the local and region-specific needs of this highly diverse and dynamic market."
JAFCO's Executive Managing Director, Hiroshi Yamada, added, "JAFCO is excited to be part of the HiringBoss journey and back this ambitious company in their successes in Asia. We see great products, fresh approach and a good team already in place. We expect great things in the offing."
HiringBoss will use the investment to accelerate R&D, product development and significantly increase their regional sales and local support mechanisms. They are also poised to launch 2 major new products by June of 2013, HrBoss and StaffingBoss, which promise to further establish their dominance in the Asian market. These new solutions will expand the HiringBoss offering beyond applicant tracking into the field of talent management and staffing.
Schiemer continued, "JAFCO's reputation precedes them and their formidable track record of around 920 IPOs worldwide shows that they are adept at picking winners. HiringBoss understands the challenges and expectations that such investments bring. We're all excited about the journey ahead."
About JAFCO: JAFCO Co.,Ltd. is Japan's leading venture capital and private equity firm. Out of their portfolio, 918 companies have successfully completed IPO's since their inception in 1973. They have established operations in Japan, Singapore, China, Taiwan, Korea and the USA. JAFCO is listed on the Tokyo Stock Exchange.
About HiringBoss:
Launched in 2011, HiringBoss is one of the fastest growing tech start-ups in Asia and a significant new contender in the global arena of HR technology and Talent Management. HiringBoss combines innovative features, a best-in-class user interface, multi-language compatibility and intuitive design. Suitable for businesses of all sizes, we have clients across a range of industries spanning Government, Engineering, Manufacturing and Pharmaceuticals. These include the Singapore Tourism Board, Mitsubishi Fuso, Yellow Pages and Canon.
With offices currently operating in Singapore, Japan, Vietnam and Indonesia we have immediate plans for expansion into a further 5 Asian countries in 2013. HiringBoss is ready-to-use now in 8 Asian languages and English.
Upcoming HiringBoss Product Releases:
HrBoss: the talent gateway solution, which lets you connect all the dots, from payroll to leave management, employee performance through to training records.
StaffingBoss: a game-changing solution for staffing and recruiting firms. It combines next-generation CRM features with an elegant interface and attractive prices.
We are currently actively sourcing talented people in Indonesia, Thailand, Malaysia, Vietnam, Singapore and Japan to become part of the HiringBoss story. http://www.hiringboss.com